This weekend is one of the most exciting weekends at Lawrence! It's our 50th annual trivia weekend, known officially as the Great Midwest Trivia Contest, and it is arguably Lawrence's best known tradition. Basically, it's a 50 hour trivia contest (Friday 10 pm until Sunday at midnight) that happens every year during the last weekend of January, and it is broadcasted by our campus radio (internet) station, WLFM. For those 50 hours, the entire Lawrence campus goes into trivia mode; people split into their teams, and each team live streams WLFM on their computers and sets up speakers so everyone can hear, and they anxiously await the first trivia question. Once the contest starts, the members of each team voraciously scavenge the internet for the answers to each question, and the questions are probably unlike any trivia questions you have ever heard. They are remarkably obscure and specific…definitely not the kind of standard trivia questions about topics like pop culture and movies and the like! The trivia contest is directed by a group of ten Lawrentians who are known as the Trivia Masters; they write all of the questions and answer the phone lines (teams have to call in their answers). I am not a trivia fanatic, and many students at Lawrence aren't, but it's still very popular and most people participate for at least part of the weekend. My clarinet studio formed its own team a few years ago; the team name is "David and the Bells" (named after our clarinet professor David Bell), and the team has actually grown to include almost everyone in the conservatory!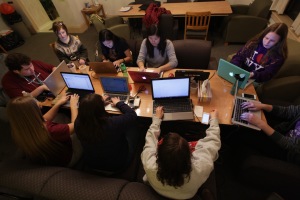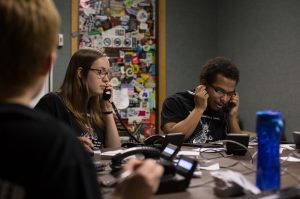 Photos courtesy of Nathan Lawrence
Aside from the trivia festivities, everything else is going pretty well, and my schedule just keeps getting busier. My highlight of last week was getting to start Irish dancing again! Leila Pertl, a music and arts educator/extraordinaire and wife of our conservatory dean Brian Pertl, teaches an informal, once-a-week Irish dancing class, and last Monday was the first class of the term! I first began Irish dancing when Leila taught this class during fall term of last year, but I ended up having an unavoidable schedule conflict that kept me from going to the weekly class. I really wanted to start again this year, and Leila very enthusiastically responded to my request that she start the class again! It's a beginning class, so we learn at a nice and relaxed pace, and so far we have learned the basic steps of the Irish reel and jig. I have loved Irish folk music and dance for my entire life (even before I could actually move my legs!) so the opportunity to learn Irish dancing is really a dream come true for me!
Earlier this week, I attended a very informative arts administration career panel, which was in some ways the kick-off to a number of career-related events that will be taking place at Lawrence over the next couple of weeks. I went to this panel because I am interested in exploring arts/music administration as a potential career option, and I really enjoy meeting and learning about people in various careers and how they have gotten to where they are today. The panel was organized by Lawrence senior Michelle Farrand, who self-designed her own major in music administration, and this panel discussion was the final event of her senior capstone experience (the culminating project that all B.A. students at Lawrence complete…B.M. students have a recital!). It was amazing to hear the stories and wisdom of the arts administrators at this panel; although they all carry a deep passion for the arts, they have each had very different career trajectories, and each of them strongly emphasized the importance of being open to new opportunities–because there is something valuable to be gained from every job and career move.
That's all for this week! Next time, I'll report back on our first orchestra concert of the term!
{ Comments on this entry are closed }