When people ask me what I did over winter break, I have a hard time answering. On the one hand, I spent most of my time hanging out at home and playing with my dogs. On the other, for the first two weeks I was doing so much that it seems impossible to capture with words, and I was across the ocean—in Berlin, Germany, to be precise.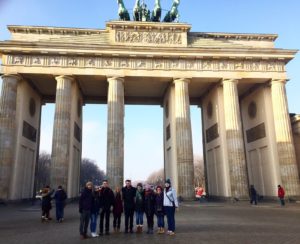 In the fall term of 2016, I was lucky enough to take GER 389: Experiencing Great Cities, a cross-listed course in German and Global Studies, which focuses on Berlin. For ten weeks our seven-student class read short stories, historical non-fiction, and discussions of architecture centered on the capital of Germany—some in English, and some in German—discussing them three times a week and gradually building an understanding of what that city was like. We also were each assigned a walking tour of Berlin, which we routed, researched, and presented briefly to the class through Google Earth. Finally, we picked topics of American culture and researched them thoroughly through interviews and observations, turning in a five-page essay at the end of the term—all of this before we'd even left campus.
And then the fun began. Shortly after Thanksgiving, we had all met up in Berlin, and we each led the class on our respective tours. As for what we saw on those tours—where do I start? We saw the Berlin Wall, of course, and the Holocaust Memorial, and the Berliner Tor. We visited museums, such as the Jewish Museum and the Museum of Communication. But we also saw smaller things: the ruins of the original outer city wall from the 12th century, a candy shop with chocolate models of famous German landmarks, and the old St. Mary's Church, just a few blocks from our hostel. And because we were all Lawrentians, having read "Life of Galileo" in Freshman Studies, we could all appreciate the significance in finding Bertolt Brecht's grave in a cemetery off of Chausseestraße.
For a history nerd like me, it was a dream come true. I loved getting a chance to see all the places I'd read about come to life around me—to be able to walk across an intersection that is, unbeknownst to most pedestrians, the oldest square in the city, and which still bears the original name, Molkenmarkt. My classmates and I had late afternoons and evenings to ourselves, and I loved being able to have these wonderful experiences with the friends I'd made during the term. We visited multiple Christmas markets, a staple of the holiday season in Germany, and explored the city's nightlife together. All the while, we helped each other research for the second parts of our comparative papers, which ranged from customer service to beer to chocolate.
All too soon, however, it was time for us to go our separate ways—some flying straight back to the US, and others, myself included, heading elsewhere. I spent a weekend in Frankfurt with my host family from high school. But eventually I too was going through customs, readjusting to a country where everyone spoke my language, and putting my nose back to the grindstone by finishing up my comparative paper.
To be honest, the trip to Berlin was brutal—we didn't see sunlight until halfway through the first week, and we walked several miles each day, often in rain or biting wind. Almost everyone came down with a cold at some point. But we were all there together, and for more than just a grade: we gained a lot of confidence, faced entirely new experiences, and learned to appreciate a different culture in a way that I don't think we could have, had the schedule been any less rigorous. Since I've returned for the winter term, it's been great to have people on campus that I can connect with so deeply, and I will always have Lawrence to thank for taking me on the adventure of a lifetime.
{ Comments on this entry are closed }