The beginning of third week here at Lawrence has brought beautiful weather–a welcome relief from those cold Wisconsin winters! I know I'm happy to be trading in freezing temperatures for Birkenstock weather, but I also am thankful for the winters here, as they make me appreciate the spring even more when it finally arrives.
Since this is my first blog post for Lawrence, I'll introduce myself. I'm a freshman, undeclared in my major but dabbling in Biology, Anthropology, and International Studies. My interests lie in the health field, particularly public health. I'm originally from Menomonie, Wisconsin, about four hours west of Appleton. Here at Lawrence, I play on the Women's Tennis Team and dabble in a few different clubs and organizations.
In this post, I'm going to talk a little about residential life at Lawrence, with an emphasis on Colman Hall, which is where I live!
Colman Hall is on the western edge of campus, closest to College Avenue. It houses both men and women, and the first floor (also known as the North Wing or the Landis Wing) is co-ed by room. The second and fourth floors are for women and the third floor for men. Some of the unique features of Colman are lounges on every floor, sinks in the dorm rooms, a courtyard, and a large first floor lounge with a fireplace (pictured below)!
Colman is also very close to the tennis courts, which I find to be very useful because I have to be there every afternoon for practice. Our tennis courts were resurfaced this past summer, and just last week lights were installed–so now we can play even at night! The courts are also right next to the Fox River, so we always have a beautiful view. It's been fun to start out with a new team, but the new courts are definitely a plus!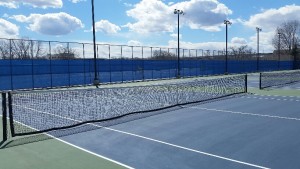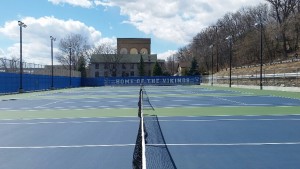 I hope this post was helpful, and tune in next week to hear about more (hopefully) beautiful weather and fun at Lawrence!
{ Comments on this entry are closed }