This term, I spent my first entire reading period on campus.  This is my third year here, but, somehow, I managed to make it until a few days ago without spending a midterm reading period on campus! At first, I was sad because some of my favorite people were leaving for the four-day break–but it ended up being great!
Usually, during reading period I would either have visitors on campus for the whole time, or go off campus to visit other people.  This year, I didn't have any obligations, and I thought it would be nice to spend some quality time with my friends and get some good trumpet practicing done.  I had a great time with my friends and even got to sleep in a few days! Reading period is great for doing things that I don't normally get to do with obligations during weekdays.  I even went shopping with some of my favorite people, which was great!
Spending reading period here reaffirmed to me how grateful I am for my friends here at Lawrence. I realized over break that they really do feel like family to me, and I'm always surprised when I think of the fact that I haven't even known them for as long as my childhood friends—it feels like I've known them for my entire life! In the past couple of years, I have gone through a lot of highs and lows, and my friends here have supported me through both.
Although I started out sad on reading period that some of my closest friends were leaving, I did end up meeting some new people and becoming closer with acquaintances, which I wasn't expecting! I tried to utilize my reading period as a break to the best of my ability, so I tried not to schedule too much. Having that flexibility allowed me to do a lot without planning in advance. I definitely did things that I wouldn't have done otherwise on a regular weekend, which was a good change. Although Lawrence isn't a large school, I'm always surprised by the amount of new people that I'm always meeting here on campus. It was also interesting to meet new people from the Appleton community that don't go to Lawrence! During a regular week, sometimes I'm too busy to make my way off campus, which makes it hard to meet people from off campus. There was, however, a lot going on on campus during reading period, inviting a lot of off-campus friends to spend time here.
Even though it is sometimes hard for me to relax and spend time with people during the week, reading period offers a great opportunity to take some time off and spend time with great people that I've met here at Lawrence. My first reading period on campus with friends was definitely a success, and I plan on spending reading period with my Lawrence friends—whoever is available—here on or off campus in the future as much as I can!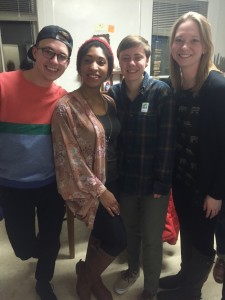 { Comments on this entry are closed }