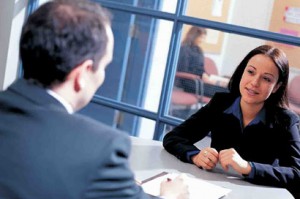 Conducting informational interviews can be a helpful step for students to take when they want to learn more about a career area of interest or to increase their contacts within a field.
How do you arrange an informational interview?
There are lots of places to look for people who are willing to talk with you. Lawrence alumni are very willing to participate in an informational interview. The LU Career Center can connect students with alums through the Alumni database. They can help you search for alums by major, geographic location or employer. You can also ask professors if they have contacts in their discipline or you can try contacting organizations that employ people with similar career interests.
There are basically three ways of making contact with people: telephoning, writing a letter or email, or by referral. Whichever method you choose, make sure to explain the purpose of requesting an interview and remember this is not an opportunity to ask for a job or internship. Rather, it should be considered an opportunity to gather information and to speak to a professional in a field of interest to you for 20 to 30 minutes (but don't be surprised if the interview lasts longer).
What questions do you ask?
You want to use this opportunity to learn as much as you can about particular occupations so some of your questions will be specific to the person, organization, or field you're talking about. Here are some questions you may want to cover in the interview:
– What do you do on a typical day?
– What skills do you use most often?
– What is most satisfying about your work?
– What are the biggest frustrations?
– What made you decide on this career?
– What training, courses, or experiences have been most helpful in your present work?
– What do you feel is the best preparation for this type of work?
– What job titles should I be looking for?
– How well suited is my background for this type of work?
– What special advice do you have for a young person entering this field?
What should you do following an interview?
SEND A THANK YOU LETTER! Doing so will help you be remembered in a positive way. At a later date, you may want to send a letter expressing interest in working for the person you met with, so send a letter or email recalling your information interview and a copy of your résumé.
Quick Tips for Information Interviewing:
– Emphasize that YOU ARE NOT LOOKING FOR A JOB. YOU ONLY WANT INFORMATION.
– Research the occupational field and organization of the person you speak with beforehand.
– Bring copies of your résumé and ask for feedback on what you have written.
– Come prepared to ask questions and a notebook to record responses or observations.
– Take notes sparingly. Wait until after the discussion to write things down if you can.
– Make a good impression and be professional.
– Keep track of the people you talk to and their professional information.
– Ask who else you should contact for information.
Also, remember to set up an appointment with a Career Advisor to talk about your career interests and for advice about whom to talk to for more information.