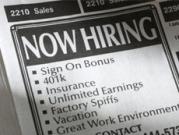 According to The National Association of Colleges and Employers (NACE) research report "Job Outlook 2011", the prospects for college graduates looking for a job have improved. The organizations who responded to the survey reported that they plan to hire 13.5% more workers with bachelor's degrees from the Class of 2011 than they did from the Class of 2010.
Of the employers surveyed, about 53% intend to hire more college graduates from the class of 2011 than from 2010, even though the NACE had reported in their fall report that less than 50 percent of employers intended on hiring new graduates. Employers indicate that they plan to hire 19.3% more graduates in 2010-11 than they did in 2009-10. This is the first time since 2007 that employer hiring plans in the spring surpass those originally made for the same graduating class the previous fall.
Additionally, the NACE's Spring 2011 Salary Survey shows that the average salary offer to all Class of 2011 graduates now stands at $50,462, which is up 5.9% over the overall average of $47,673 to Class of 2010 graduates. It is the first initial salary offer increase the NACE has reported since 2008.
You can check out copies of the NACE's salary surveys in the Career Center's Resource Room.
Sources: NACE Research; Sonoma State Star; NACE Salary Survey