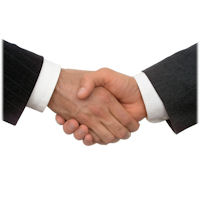 When negotiating salary or other benefit, you are also negotiating the foundation of a relationship, so you want to get off on the right foot. You and the employer must come to an agreement that you both feel is fair. Here are some tips and rules to keep in mind when talking about salaries and benefits.
The following are the best steps to take when negotiation begins:
1. Do not negotiate until you have an offer in writing. Let the employer go first with the offer. However, if they ask you first, tell them your salary range (that you determined with the Considerations in this handout).
2. Restate their offer, and then process it. Keep an honest yet non-emotional response (including body language) based on your research. So, if it is less than you expect, indicate that it is lower than you expected per your research. Be prepared to verify the sources of your research.
3. Counteroffer with your research-based response and desired range. Remain objective, optimistic, and polite.
4. Never accept an offer right then and there. Ask when they need to know your decision. A respectable company does not ask you to respond immediately.
If you have multiple job offers, you can sharpen your negotiation skills. Practice with a company you are indifferent about working for. If you are feeling confident, try for the company with the best offer. Remember, if they are negotiating, then you are the leading candidate. Use this power to your advantage.
Sources: Sweet Careers Consulting, MJW Careers
Their Response and Your Arguments
An employer may have to consult with the company and get back to you. Rarely will an employer withdraw an offer because of a counteroffer, but it is possible if the company is reorganizing or downsizing. Hopefully the employer returns with a satisfying offer. Otherwise, they state their objection and the offer that stands.
Numbers always work in salary negotiation just as they do in your resume. Never give subjective or emotion-based arguments like, "My co-workers really like me" or "I deserve it". Give undeniable business-related numbers such as, "I increased annual sales by $25,000" or "As vice president, I've reduced my department's employee turnover by 40%".
Final Offer
Know when to quit. If you sense the employer getting frustrated with your proposals or states that this is all they can do for you, stop and evaluate the existing offer. Do not give the impression that you are impatient or greedy. You may annoy the employer if you push beyond their limits, and they may withdraw offer.
When they come back to you with their final offer, be ready to evaluate and decide to accept or decline. Once an offer and package is agreed upon verbally, always make sure they are going to mail it to you in a signed, written document (an "offer of employment" letter).
Other Negotiables
Salary is not the only area to negotiate. If the employer rejects your desired salary or you work in an industry or company where salary is non-negotiable, you still have other options. These other options may be more important to you and might be negotiable.
To better prepare and negotiate, you may want to ask their HR department for information about benefits and options available. These may include:
• Bonuses (performance-based)
• Performance reviews (including timing and percentage)
• Health, dental, life and disability insurance
• Retirement or pension plans
• Vacation and sick days
• Work-from-home days
• Tuition reimbursement
• Overtime policies
• Profit sharing plans
• Stock options
• Employee discounts
• Company car and expense accounts (like commuter expenses)
• Relocation/moving expenses
• Termination contract
• Professional association or gym memberships
• Certifications
• Childcare
• Sign-on bonus