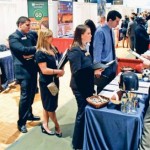 Career fairs are a great way to search for jobs and make connections with employers and companies, but walking into a convention room filled with dozens of company representatives can be intimidating and a little baffling. To make the most of your time at a job fair, it is important to know what to do before you arrive and how you should interact with the company representatives during the fair.
Listed below are some tips to help make your time at job fairs as productive as possible.
Before the Fair:
Do your homework! Being able to ask informed questions shows the representatives that you are genuinely interested in their company.
Prepare a 30-60 second marketing pitch that highlights your educational history, relevant experiences and some skills specific to the industry you are looking into. Make the most of your face-to-face time with representatives because it will be limited.
Prepare to bring 20-25 crisp resumes.
Etiquette during the Fair:
Dress professionally, like if you were going to an interview. In fact, some companies offer interviews on the spot.
Have good eye contact when speaking with a representative, give a firm handshake, and do not chew gum!
Ask the representative how you can follow up. If possible, get the business cards of the representatives you speak with. It is always good to have a contact in the company.
After the Fair:
Mail out thank-you letters to the representatives you spoke with the day after the Career Fair.
Make sure to give the company representatives a call a few days after the fair to follow up on your resume, especially if you received a business card. This will show that you are still very interested in a position at the company.