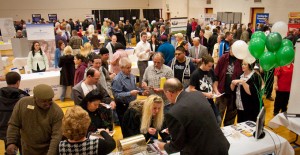 This post was written by Career Assistant Brynley Nadziejka,  '14.
As we enter the New Year, seniors especially will start thinking about what they will do after graduation, and for a lot of them that will include finding a job. Searching for employment is a daunting process, but career and job fairs exist to make things a little easier. These fairs give you a chance to meet face-to-face with representatives from dozens of hiring companies in only one or two hours. You provide them with a resume and short, 30-second "marketing pitch" about your qualifications (i.e. educational history, applicable skills, and previous experience).
To help you search for fairs, listed below are links to the websites of ten job or career fair companies that host dozens of fairs nationwide over the course of the year:
http://www.careermd.com/default.aspx
http://www.catalystcareergroup.com/eventcalendar.cfm?jobfairyear=2012
http://www.citycareerfair.com/294.php
http://coasttocoastcareerfairs.com/career_fairs/
http://www.hirelive.com/js_career_fair.html
http://www.nationalcareerfairs.com/exhibitors/career_fairs_by/year/2012
http://www.targetedjobfairs.com/tjf/search/searchresult.jsp?category=-1&city=all&state=-1&x=17&y=5
http://www.unitedcareerfairs.com/event-calendar.php
 Questions? Comments? Concerns? Stop by or contact Career Services by email at careercenter@lawrence.edu.