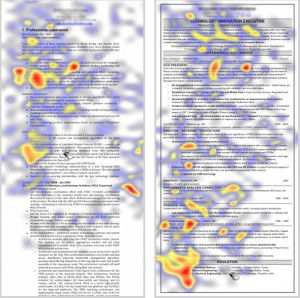 Article summary. Read original article here.
A recent study has shed some light on what recruiters pay attention to during the brief time they look at your resume.
Using a technique called "eye tracking," researchers at TheLadders examined the eye movements of 30 professional recruiters when looking at resumes during a 10-week period. The results showed that recruiters spend an average of six seconds on a resume before they make the initial decision about whether a candidate fits the organization or not.
In that short time, recruiters look at  your name, your current position start and end dates, previous title and company, previous position start and end dates, and education.
The two resumes shown here display heat maps of the recruiters' eye movements. The one on the right was looked at more thoroughly because of it's clear formatting.