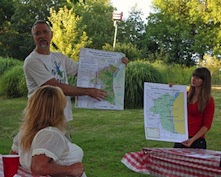 Believe it or not, now is the time to start searching for summer internship and research opportunities! It might seem like last summer just ended, but many opportunities have application deadlines in early winter.
Of course, most of us would like to have an internship or research experience on our resume, but finding these opportunities can seem tricky. You might even be wondering what the difference is between an internship and a research internship. Here the goal is to clear up the confusion and outline how to search for both internship and research opportunities while you are here at Lawrence.
Summer Internships:
Summer Internships are an opportunity for you to use theories you are learning in the classroom and apply them to work situations, learn about the dynamics of a work setting, and to "try out" different fields of interest.
Searching for Summer Internships:
Attend Internships 101 – in this workshop you will learn all the basics for where and how to search for internships using LUworks and other online resources.
Use what you learned in Internships 101 to start searching for opportunities.
Once you have an idea of what kind of internship you are looking for and have done some searching on your own, make an appointment to meet with the Internship Coordinator at Career Services to discuss your options.
Career Services will help you through each step of the internship process, from assistance during the search to providing support while you are interning during the summer.
Summer Research Internships:
Research Internships allow you to investigate a particular subject or question more deeply through studying it intensely for a period of time. There are a number of types of summer research internships:
On-campus research: Lawrence professors hire current students to assist them with their research.
LU-R1 positions: The LU-R1 program brings together current Lawrence students and Lawrence alumni doing research at research institutes and universities nationwide.
Off-campus research: There are a number of opportunities to gain research experience outside of the Lawrence network. The Research Experience for Undergraduates (REU) program, among others, provides undergraduate students with opportunities to conduct research with faculty at universities and colleges nationwide.
Searching for Research Internships:
For more information on securing on-campus and LU-R1 opportunities, enroll in the "research" class on Moodle. The main class page has Lawrence-specific information as well as lists of off-campus opportunities in science and social science fields.
If you are looking for off-campus research internships, be sure to attend Internships 101 and make sure your resume is up to date.
Use what you learned in Internships 101 to search for opportunities, and then make an appointment to meet with the Internship Coordinator at Career Services to discuss next steps.
Hopefully this clarified any confusion you may have had about searching for internships and research opportunities and the differences between the two. If you still have any questions, please don't hesitate to contact Career Services!
This article was written in collaboration with Patricia Plutz, Career Services Internship Coordinator.