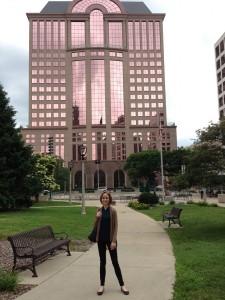 From the balcony of my apartment, I can see half of Milwaukee. In the distance, seagulls squawk, sirens wail, and machinery clangs. I've only lived here a week, but I've grown to love the urban din. The blazing sun makes a slow descent, gilding the river and rooftops. One structure in particular stands out in the skyline: 1000 North Water Street. It's not your average office building. It's twenty-four stories of pink granite and rosy tinted windows. I count the floors-the sixteenth is home to HY Connect, where I now work as an intern.
HY Connect is a privately owned agency that provides integrated advertising, public relations and media solutions.The team of about 150 uses strategic marketing and communications to help clients build brands, relationships and business. I first learned about HYC last fall, at a Lawrence Scholars in Business event. LU alumnus Tom Watson, '80 spoke about the advertising and marketing industry. His world was one of collaboration, innovation and creativity-never a dull moment. It sounded right up my alley.
Tom and I stayed in touch. Over winter break, he gave me a tour of the Milwaukee office. It was even cooler than I'd imagined. Hip professionals bustled through the halls, carrying stacks of glossy print materials and chatting animatedly. I spent the day meeting HYC team members. Everyone was welcoming and happy to answer my zillion questions. I was thrilled to be hired as a summer intern.
My first two weeks have been a whirlwind. I'm adjusting to life in Milwaukee and learning to navigate agency life. My work has primarily been in Account Services. I'm researching competitive marketing strategies for some HYC clients. My analysis may identify new opportunities for learning and possible improvement, to be presented in a future planning meeting. As other projects arise, I'll rotate through other departments like PR, Media and Creative.
Although this internship is only in its fledgling stages, it has made me even more thankful to be a Lawrentian. At HY Connect, I see firsthand how my liberal arts education applies to the professional arena. Thanks to LU, I can think critically and communicate effectively. Not only that- I have access to mentors like Tom. Without the support of alumni and faculty, this adventure never would have been possible.
I can't wait to see what else the summer has in store!