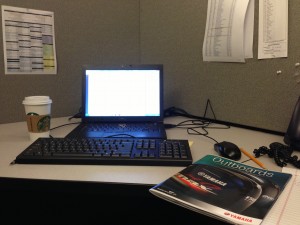 Last week was especially busy for HY Connect. Several major projects culminated at once. The entire agency prepared for its five-year anniversary meeting with a major client while PR rolled out a rapid-fire campaign. My cubicle was at the center of the action. I absorbed as much as possible, and got to contribute along the way.
With the extra buzz came new opportunities for me. In addition to the projects I'd already begun for Account Services I pitched in for other departments. I'm most excited about my first writing assignment: an article for the PR department. It's about HYC's latest campaign, and the value it brought to the client. Drafting the article was a little intimidating. As an English major, I'm used to writing lengthy analytical essays. The succinct and newsy format was new to me. Even if the attempt at business writing wasn't perfect, I have already grown from the challenge. Next week I hope to receive constructive feedback.
I was also included on several meetings. Each one gave me a wealth of information about the advertising industry. Perhaps most fascinating was a presentation from the Media department that focused on emerging trends in digital marketing. The meeting began with an informative presentation that evolved into a less formal conversation about how new technology will affect HYC. I took copious notes as people from different departments shared their perspectives. In a way, the meeting reminded me of Lawrence, where my favorite courses have always been discussion-based. There's nothing quite like the confluence of unique ideas, even if definitive answers remain elusive.
Come Monday, things are bound to be a little quieter-but only a little. I'll continue my long-term projects, and happily accept anything else that's thrown my way. I've enjoyed it all so far, from press-checking print ads to competitive research to making gift bags for clients. Time is flying by quickly, and I am determined to try as many things as possible.