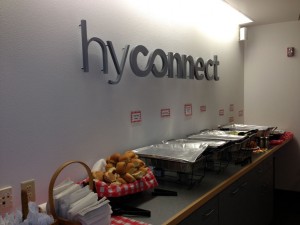 All work and no play? Not at HY Connect. My internship has presented me with challenging projects, but also a number of fun social events. Here are two examples of agency bonding…
Agency softball: HY Connect has its very own softball team. The weekly games are a big event. Even those who can't play (like me) join the cheering section. The first game I attended was on a perfect summer evening. I was pleasantly surprised by the turnout. People from every department-Media, Creative, Client Services, had either donned jerseys or brought sideline snacks. We were annihilated by the other team (a rival ad agency) but no one seemed to mind.
The Summer Party: This year, the day-long event was picnic-themed. It was gloomy outside, but we more than compensated with cheery décor and sumptuous food. Checkered tablecloths, giant sunflowers and wicker baskets lent a homey charm to the minimalist lobby. After tucking into barbeque and pies, we locked the office and headed to the pub for part 2.
My internship at HYC has taught me the importance of corporate culture. Professional fulfillment includes more than just office duties. It's important to break down the cubicle barriers every so often. The more you like your teammates, the better you'll perform together.