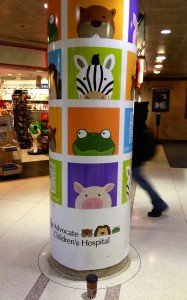 The longer I work at HY Connect, the more comfortable I become breaking out of my comfort zone. It's fun to try new things every day-professionally and socially. Take last week for instance: I took a brief hiatus from Milwaukee to work from the HYC Chicago office.
As a native of the nearby suburbs, I liked to think I knew Chicago well. But joining the throngs of commuters on the morning Metra was an entirely fresh experience.
From the moment I stepped into Union Station, I was surrounded by advertising. And not just any advertising-HY Connect advertising. The "station takeover" was part of HYC's campaign for Advocate Healthcare. Every surface-digital signs, stairs, pillars and escalators was covered in the promos.
On the walk to work I noticed another HYC campaign. This one took up an entire double-decker bus. It featured a larger-than-life bull, whose skin had been removed to reveal a complex muscular system. I wasn't the only one to find it striking. People around me were visibly responding to the ad. Kids pointed and squealed in excitement. Parents glanced at one another, intrigued. I couldn't help but think of all the collaborative effort that went in to eliciting the reaction.
It's not surprising that HYC's media placements are dominating Chicago. As I learned while writing a recent press release, the agency was one of Crain's top 20 largest agencies. The Chicago office increased local employment by 70% last year. It continues to expand its capabilities and client roster.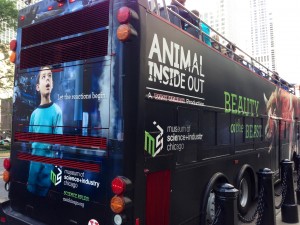 Until I saw the work in action, I hadn't been able to envision the finished product. I had certainly been enjoying my writing and research projects, but could only see them as the pieces to a mysterious puzzle. Now I feel more invigorated to delve into new projects. I want to contribute to the spectacular work as much as possible.