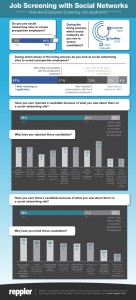 You may have seen the recent Associated Press article about employers asking for job candidates' Facebook usernames and passwords (if not, you can read it here). According to the article, employers are taking the process of vetting job applicants one step further than just checking out their online profiles and now may want to be able to look at candidates' accounts from the inside.
Facebook responded to this article by posting a note explaining that the practice of sharing or soliciting profile passwords is a violation of Facebook's Statement of Rights and Responsibilities, and that they do not think asking prospective employees to provide their passwords "is the right thing to do" (see the note here).
But isn't the information on social networking sites fair game to employers? Not at all, according to many groups, including government officials and the ACLU, who have responded to the news of this practice with outrage. They say that using this information is a violation of applicants' privacy and that asking for it during the application process may be coercive.