Last Friday and Saturday, I participated in a variety of activities related to the Chicago ACM program on Business, Entrepreneurship, and Society.  Two current seniors, Alex Chee and Cuong Nguyen, are enrolled in the program and have fascinating internships that they will tell us about when they return in January.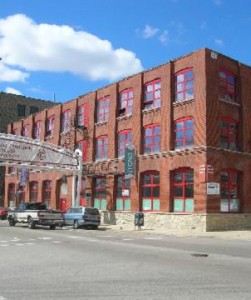 We visited the Industrial Council of Nearwest Chicago (ICNC), which has been serving business start-ups for 40 years.  The above building houses over 120 tenants that are in the early stages of business development.  ICNC owns and manages this 410,000 square foot space and supports the resident entrepreneurs with a variety of services including counseling and technical assistance, advocacy, recruitment, funding, and employee training.  We met with one firm (Souldier) that recycles automobile seatbelts into guitar straps (for famous and not so famous bands) and another (Aloft) that teaches how to do aerial acrobatics on silk ribbons hung from the rafters – an awe inspiring vision.
If you fancy yourself as an entrepreneur, seriously consider enrolling in this program.  You will find out whether such a lifestyle is a perfect fit for you.  If you have questions or seek more information about the program, come see me.