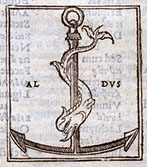 Written by Jill G. Thomas, Director of Technical Services
While looking through some library records, I recently discovered an interesting set of books. To investigate further, I pulled down two that were the oldest, 1565 and 1575.  They are both very nice octavos, vellum bound, but the best part is that they are printed by one of the most famous printers of the Italian Renaissance, Aldus Manutius (he used his Romanized name, his Italian name was Aldo Manuzio). He, his son, Paulus, and grandson, also named Aldus, all who worked in the Aldine Press in Venice.
Aldus Manitius is credited with producing the first italic type, introducing small and handy pocket editions, the octavo, like ours, and along with his son and grandson introduced a standard system of punctuation.  Paulus Manutius moved a branch of the Aldine Press to Rome and while here monopolized the privileges of release on the important texts approved by the Council of Trent including the Catechism and the Missal. 
Aldus, the elder's, love of the classics and his drive to produce personal editions is what drove his press.  He and his family even wrote and published some of their own books, grammars, Cicero's Orations, and some of Paulus's Latin letters.  For more information on Aldine Press books, see the online exhibit at Brigham Young University.
More information about two of the Aldine Press publications at the Mudd Library:
Paraphrasi sopra I tre libri dell'anima d' Aristotile, del R.D. Angelico Buonriccio Canonico reolare della congregation del Saluatore. In Venetia : Andrea Arrivabene, 1565.  This book was not published by Aldus Manutius but it has a stamp on the front lining page that says "Libreria Aldo Manuzio, Venezia."
This is a critical edition of Aristotle's work on the Soul by Fr. Angelico Buonriccio, Augustinian Order (OSA). The printer, Andrea Arrivabene, produced one of the most popular and influential books on spiritual devotion in the sixteenth-century in Europe, and reflected Italian radical (evangelical) religious thinking hoping to reform the Catholic Church from inspiration of the Reformation: Trattato utillissimo del beneficio di Iesu Cristo crosifisso , at least 3 ed. in the 1540s.
Epitome orthographiae Aldi. Manutii. Paulli R. Aldi. N. Ex libris antiques, grammitictis …Venetiis : Apud Aldum, [Symbol of infinity]DLXXV.  This is one of the books that Aldus Manutius the Younger wrote and published.  The Orthographiae set out to standardize the spelling of words from various text in Latin. This books is one of the greatest contributions to Latin orthography.
As a special collections librarian, discovering the story behind these books was very exciting. I had only seen books that were unauthorized reproductions of Aldine publications produced in Lyon or Amsterdam during the lifetime of Aldus the Elder (copyright was a little lacking in those days), so seeing the one and knowing the other belonged to this famous printing family was really great!
Special terms defined:
Octavos: A book composed of sheets which have been folded to make eight leaves. Generally it measures between 6×9½ inches and 5 × 7½ inches (c. 15 × 24 and 13 × 19 centimetres).
"octavo." The Thames & Hudson Dictionary of Art Terms. London: Thames & Hudson, 2003. Credo Reference. Web. 13 November 2013.
Vellum: A fine parchment prepared from the skin of a calf, kid, or lamb.
"vellum." Collins English Dictionary. London: Collins, 2000. Credo Reference. Web. 13 November 2013.
See Credo Reference for more about the Aldine Press (on campus or proxy logon required).