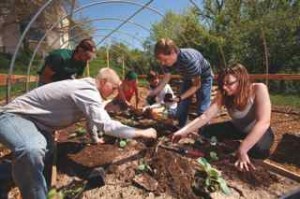 Lawrence University's grade for sustainability has improved to a B+, according to the 2011 College Sustainability Report Card, released today (October 22, 2010). GreenReportCard.org provides in-depth sustainability profiles for more than 300 colleges in all 50 U.S. states and eight Canadian provinces.  In contrast to an academic focus on sustainability in research and teaching, the Report Card examines colleges and universities, as institutions, through the lens of sustainability. The focus is on policies and practices in nine main categories:
Administration
Climate Change & Energy
Food & Recycling
Green Building
Student Involvement
Transportation
Endowment Transparency
Investment Priorities
Shareholder Engagement
Click here for the details.