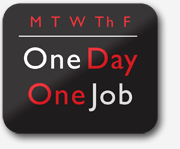 One Day, One Job isn't your standard job board. In fact, it's not even a job board, it's better! Let's take a closer look.
What the site says about itself:
One Day, One Job is all about introducing college students and recent grads to exciting companies and their entry level jobss. Every day we take a look at one employer and the jobs that they are offering for recent college graduates. We scour both online and offline media for information on exciting companies that most people might overlook in the job search.
The Pros:
We are always encouraging students to research, research, research employers prior to applying for opportunities. One Day, One Job does some major footwork for you by gathering valuable information, including important background about the history and culture of each organization. They provide a link directly to the employer's job page, and highlight titles of positions (with links) that seem a good fit for current students or recent grads.
At the time of this publication, ODOJ has featured 1228 companies.
They feature a new company literally every day.
ODOJ also provides links at the end of each post to help you begin your research.
We know that the most effective job search approach includes lots of employer research, (research is essential to creating tailored resumes and cover letters and to preparing for interviews). One Day, One Job embodies this approach.
The opportunities on ODOJ are featured because they seem suitable for college students or recent grads.
They have featured lesser known companies such as Grafik and Adaptive Path, as well as big-name companies like CNN, Twitter and Visa.
There's also a One Day, One Internship.
The Cons:
If you're looking for a traditional job search engine with a seemingly endless list of job postings that expire over time, you will be disappointed. Like I mentioned earlier, ODOJ is not a job search engine.
The lack of advanced search options can be seen as a potential con for ODOJ. After all, a benefit of traditional job search engines is that jobs are sorted by a variety of criteria to make it easier to find opportunities that suit your interests. While ODOJ does not have an highly sophisticated search function, they have tagged each company quite thoroughly. So, if you're interested in non-profit organizations in New York, you could type ["non-profit" AND "New York"] in the search box and find all opportunities that include these tags. You won't, however, be able to type in your zip code and locate opportunities within a 25-mile radius.
At the time of this publication, ODOJ has featured 1228 companies. Yes, I know this appears under "Pros", too. I recognize that for some, this number of companies may seem too small. Keep in mind that ODOJ seems to value depth over breadth, and with each passing day, the breadth only gets broader. But, if you are looking for a wider breadth of opportunities, then this site might not be for you.
Final Thoughts:
One Day, One Job is an excellent resource for college students and recent grads.  They place a priority on researching companies and have done some excellent work to get you started in the right direction.  If you're looking for entry level jobs, (or internships), definitely check out One Day, One Job!
Have you used One Day, One Job? Tell us what you thought of the site!
—
FTC Disclaimer: A review of the site was requested via Twitter, but we were planning on doing this review before that request was made.  LUCareerCenter2Go was also listed in One Day, One Job's Top 10 College Career Services Blogs in 2008.  We were not paid or received anything to conduct this review.