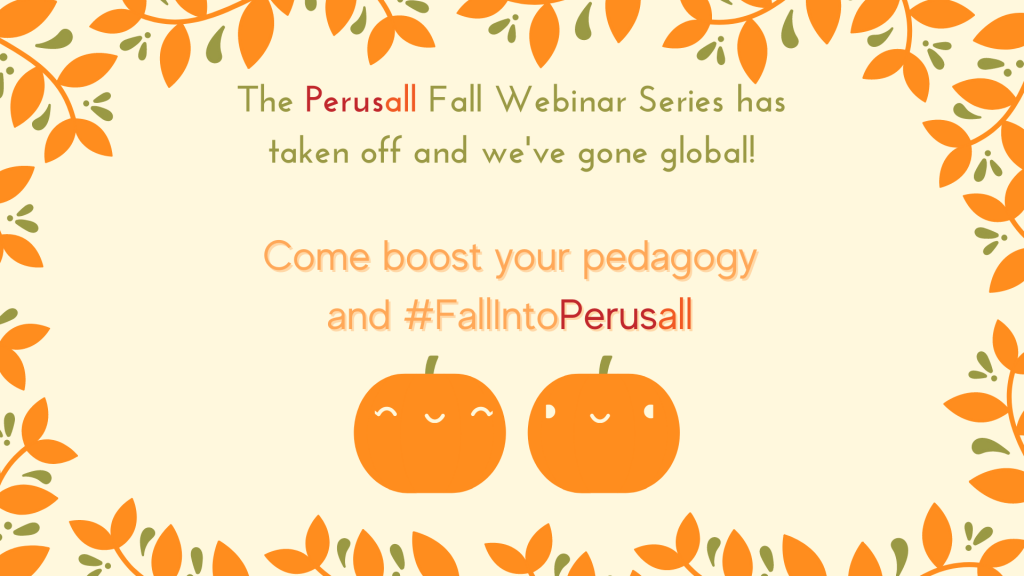 If you are a Perusall user, or if you are curious about whether Perusall might be a beneficial tool for you, the following opportunities will be offered this fall. Hit the Webinar registration link if this interests you.

From Perusall:
From Peru to Australia, the Netherlands to California, Perusers are siging up for the Fall Webinar series and up-leveling their Perusall skills. Our community of users, both new and experienced, have gained new insights into the different ways that Perusall can boost their pedagogy. Don't miss out! Register for one today!

Register here and #FallIntoPerusall: Webinar Registration
Perusall 101
This introductory course is designed to help those who are new to our platform and those looking to brush up on the fundamentals. We will cover course creation, the basics of scoring, grouping and assignment creation. This is the perfect place to start with Perusall. 
Perusall 102
New topics will be covered in each session to give Perusers a chance to get an in-depth look at the many features Perusall offers. Topics will include Peer Review Assignment creation, in-depth scoring analysis and more! This is a great session for boosting your Perusall skills
Instruct the Instructor
The Webinar is the newest in the series, designed for those who are tasked with teaching Perusall to others. We will instruct you on how to teach Perusall like the pros and cover sandbox course creation, FAQ's, how to troubleshoot common LMS issues and more!