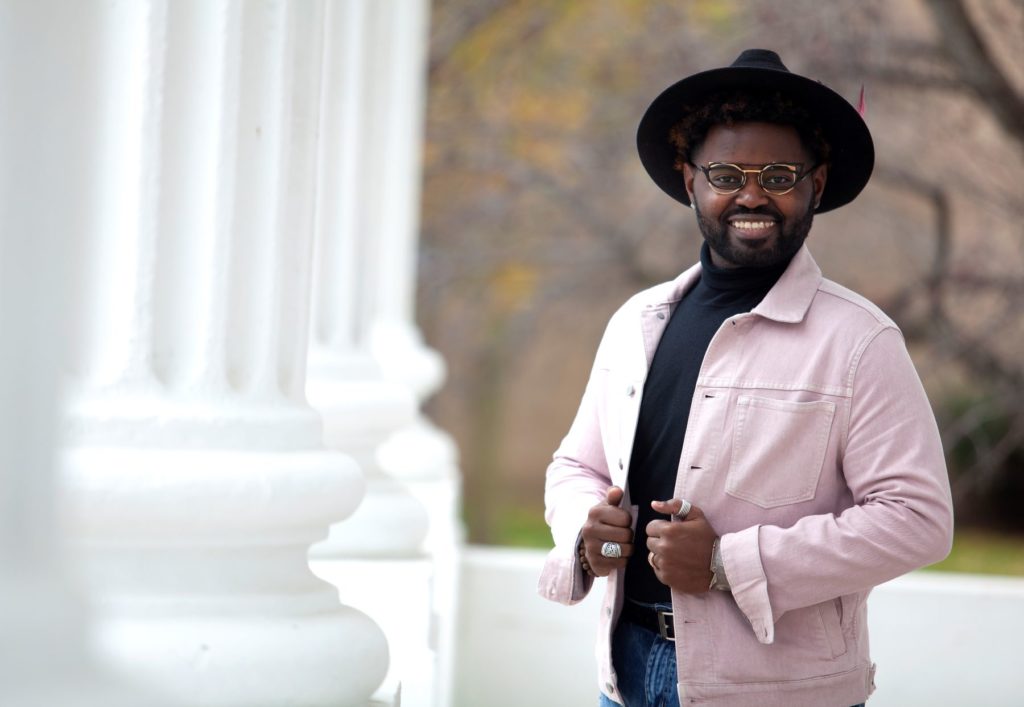 Story by Ed Berthiaume / Communications
We're tracking John Holiday's journey on The Voice. Get updates and insights here as the Lawrence University associate professor of music competes on NBC's popular music competition show, now in its ninth year and 19th season.
Nov. 10: The Battles
John Holiday advanced through the battle round following a stirring duet of Stevie Wonder's Summer Soft with fellow contestant Julia Cooper.
Competing as part of Team Legend, coached by John Legend and with an assist from guest advisor Miguel, Holiday flashed his spectacular range. Legend then chose Holiday to move on, saying: "John is just so remarkable. He's just one of those talents that don't come along very often. We haven't seen someone with his immense gift on this show, and I had to pick him."
Legend also used his one "save" to keep Cooper's hopes alive. They both advance to the knockout round.
Get to know Lawrence's John Holiday here.
The episode also showed Holiday on the Lawrence campus and referenced his work as a voice professor in the Lawrence Conservatory of Music. Holiday spoke of his efforts to inspire his students to always reach for more and always be themselves.
"I tell my students this all the dang time," Holiday said after Legend challenged him to never hold back on what makes him special, referencing his incredible vocal range. "I tell them if they're different, be more different. What Miguel and John were telling me is just soar, and I was like, 'You know what? I'm gonna soar.'"
Legend wasn't the only one impressed. Here's what else was being said about Holiday following the Nov. 10 performance:
Gwen Stefani, also a coach on the show: "I have no words for you. I don't even understand how you're real."
The Daily Mail: "John Holiday and Julia Cooper treated viewers of The Voice on Tuesday to one of the best battles in the nine-year history of the NBC singing competition show."
Yahoo Entertainment: "The episode saved the best for last, with an astounding, standing-ovation-garnering duet that coach John Legend described as 'musical-expert-level, Ph.D. professor-level.' (One of the contestants, Team Legend opera singer John Holiday, is an actual music professor, so that made sense.) Legend gave Holiday and Julia Cooper the most difficult song ever performed on The Voice — Stevie Wonder's Summer Soft, an advanced Songs in the Key of Life vocal workout packed with twists and turns and key changes and unorthodox chords — but he was confident that these prodigies were up for the challenge."
Billboard: "Team Legend's John Holiday took on Julia Cooper with a breezy face off to Wonder's Summer Soft. When Holiday, the countertenor with astonishing range, and Cooper, an Ohio native with a special voice of her own, completed their performance, it was set to the calls of 'wow' and 'oh my gosh' from the coaching panel."
Look for more from Holiday when the knockouts begin in two weeks.
Oct. 19: The Blind Auditions
John Holiday, a voice professor in Lawrence University's Conservatory of Music, made a huge impression Monday night as he debuted on NBC's The Voice, drawing rave reviews from the coaches and lighting up social media.
He gave TV viewers a taste of what Lawrentians have come to know over the last three years – Holiday has incredible talent.
"Your range is just otherworldly," John Legend, one of the celebrity coaches, told Holiday following his performance of Misty, a song composed in 1954 by jazz pianist and composer Erroll Garner that is most often associated with the great Ella Fitzgerald. "It was one of the best performances I've seen and heard on this show."
The 35-year-old Holiday is competing in the 19th season of the popular music reality show that features four music stars – Legend, Gwen Stefani, Kelly Clarkson, and Blake Shelton – serving as music coaches looking to get their chosen musicians to the finish line.
Legend, Stefani, and Clarkson all sought Holiday for their team during Monday's blind auditions. Holiday chose Legend, and he'll now compete during the season as part of Team Legend.
A native of Rosenberg, Texas, who moved to Appleton in 2017 to be part of the Lawrence Conservatory faculty, Holiday is no stranger to the big stage. He has performed around the world, mostly in opera. In 2017, he was named the winner of the Marian Anderson Vocal Award, presented by the John F. Kennedy Center for the Performing Arts and Washington National Opera to a young American singer who has achieved initial professional success in the area of opera, oratorio, or recital repertory and who exhibits promise for a significant career.
During Monday's episode, Holiday said his participation on The Voice is part of an effort to cross over into other genres, to show new range.
"I'm known as an opera singer but I love jazz, I love gospel," he said. "I want to cross over in a big way, and America has never seen a person that looks like me doing it, not in the mainstream. I think it's time, especially with what's going on in the world right now. I'm here to show other little boys that no matter what color they are, you can be and do anything, even in a world that can be so chaotic. My prayer is that I bring them hope that tomorrow will be better."
Others took notice. Billboard magazine trumpeted: "Some singers have a voice. John Holiday has the voice." Yahoo Entertainment said: "This flashy crooner's performance was bold and stupendous and totally memorable; he looked and sounded like a superstar."
John Holiday talks about his love of teaching, recruiting. Read more here.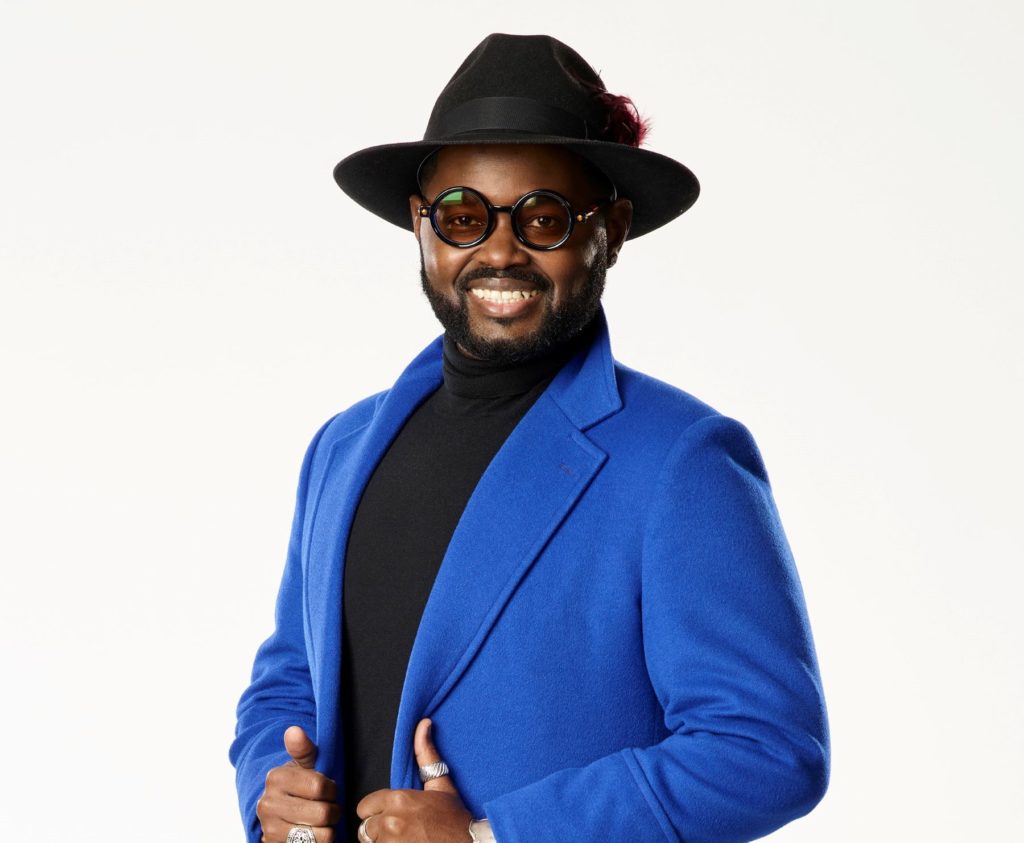 Holiday also flashed his insightful personality in Monday's episode. He talked about difficulties he had as a child and the love he felt from his family a decade ago when he told them he is gay.
"I was really bullied growing up because I had the high voice," he said. "Even before I knew it, I was made fun of for being gay. But I'm lucky to have my grandmother, Big Momma, in my life. She has been my biggest cheerleader. On my 25th birthday, I said, 'Big Momma, I have something to tell you. I'm gay.' She said, 'There is nothing in this world that you could do that would make me love you any less than I love you right now.' I wish that kind of love for everybody because it allowed me to be myself without apology. It freed me and it allowed me to soar. I'm so thankful that I get to be here."
Besides Holiday, eight other musicians were selected in the opening night of blind auditions to move on. Additional auditions are yet to come.
Stefani told Holiday he has big things ahead of him, and that The Voice will be a vehicle that will showcase his talents for the world.
"Your tone is so different from anything I've ever heard," she said. "It sounds so retro in such a great way. You know who you are and you know what you want to do. It's really just about having someone to be your cheerleader."
Now the voice teacher becomes the student under Legend's tutelage.
"Everything you did was so beautiful," Legend said. "It was so musical. I would absolutely be thrilled to coach you and welcome you to Team Legend."
Ed Berthiaume is director of public information at Lawrence University. Email: ed.c.berthiaume@lawrence.edu