Oxford – Fall 2020
Different, but no less exciting
Studying abroad at Oxford University in a pandemic was not a decision that I took lightly. It has been the hardest thing I've ever done—beyond the intense academic environment, I left the United States for the first real time, traveled by myself, quarantined for fourteen days, and now I am living in a busy city, constantly wondering if I will get sick. I am incredibly fortunate to get to study abroad this year and have this experience, but there are many risks involved.
In the United Kingdom, new restrictions and lockdowns are being implemented every day. However, the responses are very different from what I have heard back at home from my family in Appleton and my partner and friends at Lawrence, whether better or worse. For instance, Oxford is only testing students who have symptoms, relying on the hope that people will come forward and get tested. Given that many people can be asymptomatic, it's worrying. Each college determines their own rules, so some are more extreme and protective than others, though many have students divided into households. Many people wear masks in stores and on public transportation (it's the law), but rip their masks off when they step outside. Pubs and restaurants are still open though all must close by 10, clubs are closed, groups of six people are allowed to meet, and many tutorials are in-person. Libraries are open but everyone must book a slot, wear a mask, sanitize their stations, and stay two meters apart. Traveling outside of the area is both discouraged and risky. Oxford is dictated by government guidelines, the university's rules, and each college's restrictions.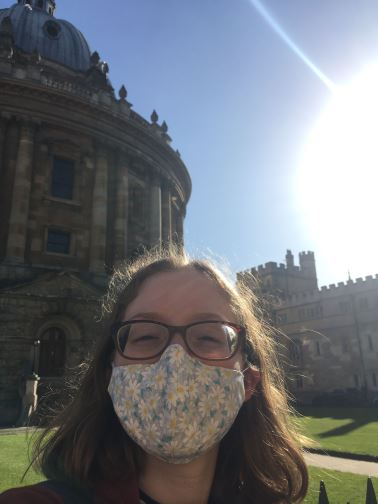 Obviously, this is not the experience I expected when I applied in November 2019, but it's just different, not less exciting. I have been able to visit museums, shops, libraries, and walk in meadows and in the city. I am still getting an incredible education, and though lectures are pre-recorded for viewing online, my one-on-one tutorials can meet in-person, which certainly adds to the experience. For now, I could travel to London or Blenheim Palace or Stonehenge (where travel is not restricted) if I want to. The difference is just that I need to wear a mask, use lots of hand sanitizer, and remain cautious so I can come back home in December without having gotten sick. I guess being sent home for Spring Term prepared me for video calls, being far away from my loved ones, and missing Lawrence (even though I was only ten minutes away). All of this being said, I am very glad to be in Oxford and I hope more programs will run in-person soon.
[Lauren Kelly is a Lawrence University student who is currently abroad at Oxford University.]