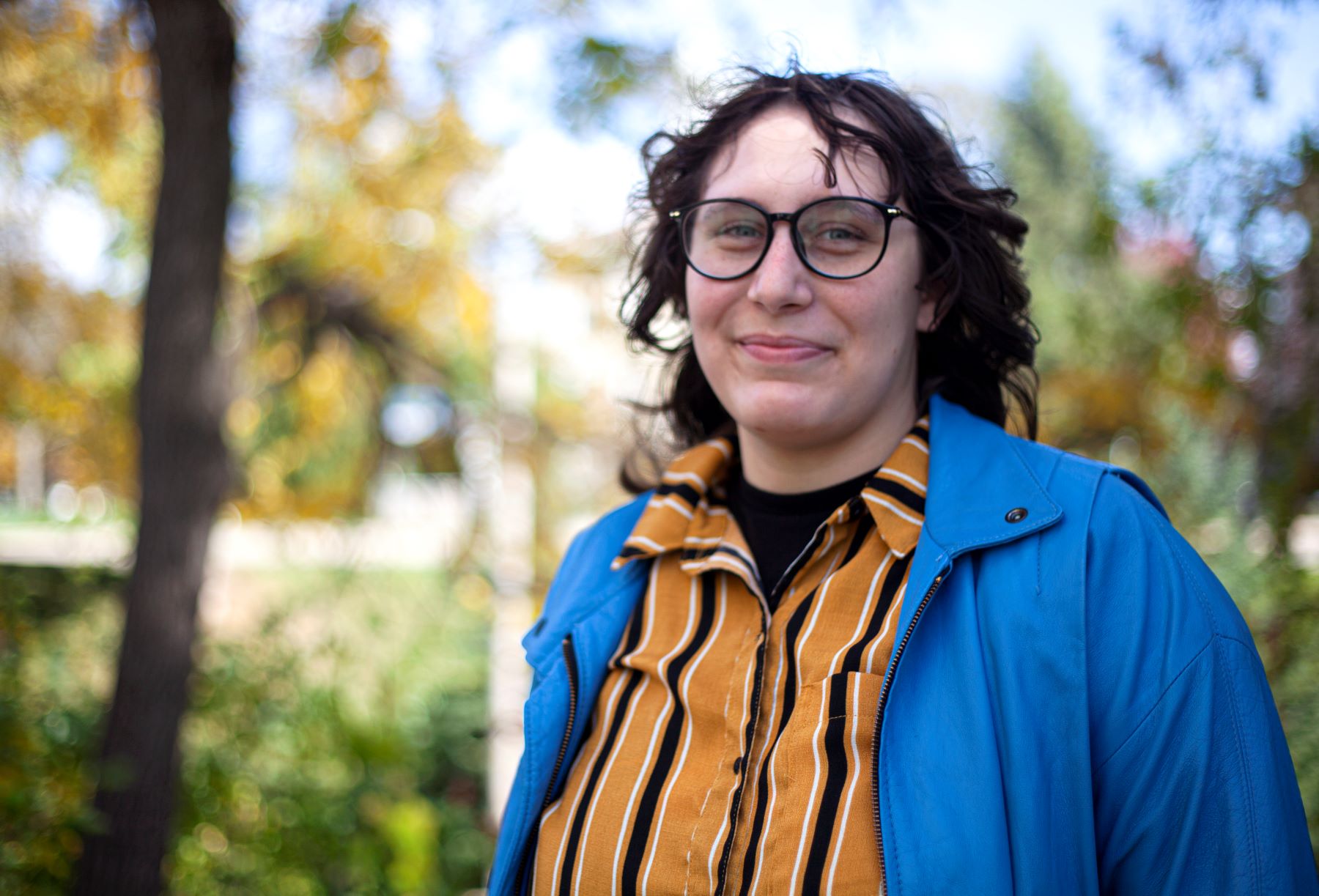 2 Minutes With … is a series of short features to introduce us to the passions and interests of Lawrence students on and off campus. Find more 2 Minutes With … features here.
Story by Isabella Mariani '21
When Dani Massey '22 was working as a conductor's assistant amid their college search, they decided to ask their music director about his college experience.
"He had this spark of how he treated people and how he taught, and I wanted that light," Massey recalls.
It turns out he was a Lawrentian. And from that moment, attending Lawrence became Massey's priority.
Ever since they transferred to Lawrence in fall 2019, Massey has been among the transfer students who help make Lawrence great. We're highlighting their contributions to our community here for National Transfer Student Week, Oct. 19-23.
Balance is a science
Like many transfer students, the process of getting to Massey's dream school was a journey. It began at Joliet Junior College, 30 miles southwest of their hometown of Chicago. While initially pursuing a music major, Massey was drawn to psychology instead, and developed an interest in neuroscience. Now, they hope to work with students in a teaching hospital in order to expand our knowledge of biology and behavior.
"It's important we understand ourselves and how to help people learn," Massey says. "Take care of oneself and each other."
Juggling psychology, neuroscience, and Russian makes academic rigor a hallmark of Massey's Lawrence experience. This course load has taught them much about personal and professional balance.
"It's a lot of time management and knowing when to say no," Massey says.
Now into their second year at Lawrence, the landscape has changed amid the COVID-19 pandemic. Adapting has itself been a learning experience.
"I've leaned into the discomfort of taking classes on Zoom," Massey says. "Forgiving myself if things don't go right."
Finding a voice
There are many dynamic ways in which a student can feel at home on campus. Massey connects to their peers through their diversity column in The Lawrentian, titled Subculture on Main. It's about providing a voice and a platform for students of different groups and backgrounds to share their experiences.
"The spectrum of experience is so vast," Massey points out. "Each person has a story here. It's a good way to let people who don't leave their comfort zones be exposed to different worldviews."
This Lawrentian gig also fulfilled Massey's goal of having their writing published before they graduate.
A worthy journey
Pandemic or not, here's what Massey wants transfer students to know: "Self-advocacy is something I can't emphasize enough. Making those connections, communicating about your needs, and finding someone who will listen is really important."
The journey as a transfer student has been one of persistence.
"Since I am a first-generation student, I have had to navigate higher education alone — everything from picking a school to balancing two jobs and full-time classes," Massey says. "I knew when I began at Joliet that I would be working up to transferring to Lawrence. It's my undergraduate dream school. I am immensely proud of becoming a Lawrentian. I worked very hard at my junior college and I continue to work hard at Lawrence because I am so happy to be here. Being a Lawrentian reminds me that I am capable of achieving my dreams, that I have a bright future ahead, that I can help someone else achieve their dream with the education I am getting here."
Isabella Mariani '21 is a student writer in the Communications office.