Lawrence University men's tennis star Ryan Dunn has been named an ESPN The Magazine Academic All-American.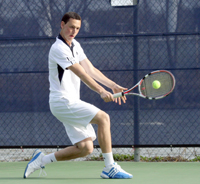 Dunn (Fond du Lac, Wis./Fond du Lac), a senior, was chosen for the at-large first-team team in a vote by the College Sports Information Directors of America. Dunn is a biology major and has a 3.86 grade point average.
Dunn is the first Lawrence athlete to be named an ESPN The Magazine Academic All-American since Andrew Wong was chosen for the baseball squad in 2006.
Dunn recently completed an impressive playing career for the Vikings. The No. 1 singles player for the Vikings, he compiled a career record of 57-12 and holds the Lawrence record for career wins.
A former No. 1 Midwest Conference singles champion, Dunn finished second at this year's league championships and compiled a 20-3 record. He teamed with his brother, Jason Dunn (Fond du Lac, Wis./Fond du Lac), for a 20-3 record at No. 1 doubles.
A Phi Beta Kappa, Dunn is a member of the Dean's List and has been elected to Mortar Board, Lawrence's senior honor society. Dunn also won the Iden Charles Champion Cup, given each year to a Lawrence athlete for excellence in athletics and academics.
Dunn also has earned the maximum of three Academic All-Midwest Conference selections.
Dunn also has given his time to the community. He has worked on Habitat for Humanity homes and spent the summer of 2008 as a hospital volunteer in Peru. Dunn also volunteers as a tutor at Appleton's Richmond Elementary School.
Led by Dunn, Lawrence posted a 16-9 record and won the Midwest Conference North Division with a 4-0 record. Lawrence finished third at the Midwest Conference Championships.