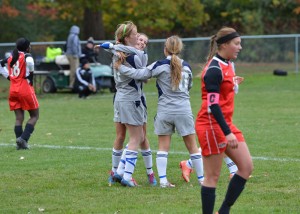 APPLETON, Wis. — The Lawrence University women's soccer team rode a great defensive effort to a 1-0 Midwest Conference victory over rival Ripon College on Wednesday at Whiting Field West.
Keli Muchowski scored the game's lone goal in the 70th minute to provide the winning margin for Lawrence (5-7-1, 3-3-1 MWC).
Lawrence goalkeeper Dani Glass made 10 saves, including a spectacular save off a shot at point-blank range. Defender Amanda Ollerer headed another ball away that was headed for the back of the net.
Lawrence defender Genna Matt did a superlative job on Ripon star forward Brandi Peltier. Marking Peltier one-on-one, Matt held Peltier to two shots on goal, and one of those shots came off a free kick.
Lawrence got the lone goal when freshman Casey Merkle took a ball from the right sideline and dribbled toward the penalty box. She found an open Muchowski, who rifled the ball past Ripon goalkeeper Sidney Blodgett at the 69:36 mark.
Blodgett made seven saves for Ripon (8-6-1, 4-3-1), which saw its hopes of a Midwest Conference Tournament berth dealt a serious blow by the loss.
Lawrence returns to action on Saturday when it hosts Grinnell College.