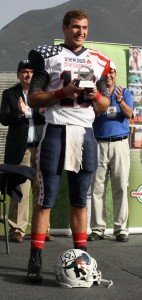 MONTERREY, Mexico — Lawrence University quarterback Luke Barthelmess was named the MVP on Saturday at the fifth annual Tazon de Estrellas (Bowl of the Stars).
Barthelmess led Team Stars and Stripes, a group of NCAA Division III all-stars, to a 29-7 victory over the CONADEIP All-Stars at Estadio Tecnologico on the Tec de Monterrey campus.
Barthelmess led Team Stars and Stripes on three scoring drives in the first half. Barthelmess, an All-Midwest Conference selection this fall, completed 11-of-16 passes for 103 yards, and he ran seven times for 49 yards and a touchdowns.
Barthelmess directed the the game's first scoring drive, an 89-yarder that resulted in a touchdown. Barthelmess moved Stars and Stripes to the All-Stars' nine-yard line and ran it in from there for the score. Stars and Stripes started its next drive at its own 12, but Barthelmess moved the team to the All-Stars' nine before settling for a 26-yard field goal and a 10-0 lead.
An interception on the next possession gave Stars and Stripes good field position, and the Americans used a trick play for another touchdown. Barthelmess lateraled the ball to St. Norbert College's Brian Fliess, who threw a touchdown pass to give Stars and Stripes a 16-0 lead.
Stars and Stripes led held a 16-7 lead at the half, and Barthelmess turned the reins of the offense over to Cornell College's Juan Flores early in the third quarter.
Lawrence defensive back Sam Wagner also took part in the game. Wagner, a defensive back, recorded one tackle and one pass breakup.