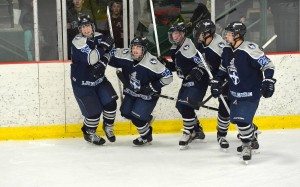 ASHWAUBENON, Wis. — Lawrence University scored twice in a span of 1:06 in the final two minutes of the game to rally for a historic 5-4 Northern Collegiate Hockey Association victory over St. Norbert College at the Cornerstone Community Center on Saturday night.
Lawrence (3-6-1, 3-5-0 NCHA) scored four unanswered goals in the final period to take the victory over the second-ranked Green Knights.
"I am speechless right now,"  Lawrence head coach Mike Szkodzinski said. "Every program needs a victory to hang their hat on in order to move forward in their program and undoubtedly this is that win. I'm very proud of our young men and this program."
St. Norbert (10-2-0, 7-1-0) had built a 3-1 lead through two periods with the help of two power-play goals in the opening period. The Green Knights made it 4-1 after Erik Cooper's unassisted goal just 1:08 into the third.
Lawrence started the rally with a goal just 27 seconds later. Gustav Lindgren scored off assists from William Thoren and Ryan Eardley to cut the defict to 4-2.
Lawrence's Renato Engler then picked up his first goal of the season off assists from Rudi Pino and Paul Zuke at the 11:24 mark and the deficit was only 4-3.
Matt Moore then tied it for the Vikings with a goal with just 1:28 left on the clock. Brandon Boelter and Ryan Rumble, who had scored Lawrence's first goal, picked up helpers on Moore's tally.
The Vikings completed the comeback when freshman Blake Roubos scored with just 22 seconds left off assists from Boelter and Logan Lemirande. The Green Knights pulled goaltender Tony Kujava late in the final seconds but coudn't get the equalizer.
Goaltender Anton Olsson stopped 25 shots to pick up the win for Lawrence. Kujava made 14 saves for the Green Knights.
"The team was very excited, as well they should be, but we have a long way to go. We've got a lot of goals we want to accomplish this season," Szkodzinski said. "One thing my father always told me was hard work always pays off, you just don't know when. Tonight it finally paid off."
This is the highest-ranked opponent Lawrence has ever beaten, and it marks the first time the Vikings have beaten St. Norbert since the Green Knights' program achieved varsity status. The Vikings had not defeated St. Norbert since a 6-2 win over the school's club team in the 1987-88 season.
This also marks only the second time in St. Norbert history that the Green Knights lost a game at the Cornerstone Community Center when leading after two periods.