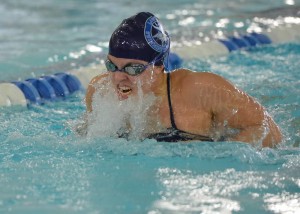 GRINNELL, Iowa — Lawrence University swimming star Hayley Cardinal swam to victory in the 100-yard breaststroke on Saturday to pace the Vikings on day two of the Midwest Conference Championships at Grinnell College.
Cardinal took the second conference title of her career with a time of 1:04.96. She earned a NCAA "B" cut in the process and won by 1.36 seconds over Maddy Pesch of Grinnell. Lawrence's Emmi Zheng grabbed third place in 1:06.88.
The Lawrence relays were outstanding as the 800 freestyle team of Emei Thompson, Eryn Blagg, Paige Witter and Emily Flack took second in 7:59.58. The 200 medley relay team of Cardinal, Flack, Witter and Danielle Millin was third in 1:49.97 and set a Lawrence record.
Witter also placed third in the 100 butterfly in 59.31 seconds and broke the Lawrence record. Witter's time topped the record of 59.47 seconds, set by All-American Becky Wagenaar in 1994.
Millin placed in two individual events, taking fourth in the 100 backstroke in 1:00.40 and seventh in the 400 individual medley in 4:51.64. Flack took sixth in the 200 freestyle in 1:59.30 and was seventh in the 100 backstroke in 1:01.23.
The women moved up one spot in the team standings Saturday are are third with 330 points. The Vikings are only three points ahead of Lake Forest College.
On the men's side, Lawrence is eighth with 105 points. Max Stahl paced the Vikings by taking fifth in the 100 backstroke in 53.98 seconds.