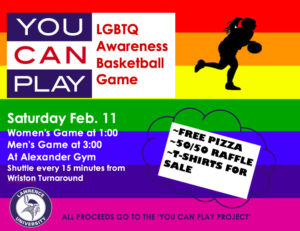 APPLETON, Wis. — The Lawrence University Student-Athlete Advisory Committee is sponsoring the LU Pride Game on Saturday when the Vikings host Monmouth College in a Midwest Conference doubleheader.
All proceeds from the LGBTQ awareness games go to the You Can Play Project. You Can Play works to ensure the safety and inclusion of all in sports, including LGBTQ athletes, coaches and fans. You Can Play seeks to challenge the culture of locker rooms and spectator areas by focusing only on an athlete's skills, work ethic and competitive spirit.
The Lawrence games get started with the women facing Monmouth at 1 p.m. at Alexander Gymnasium. The men's game against the Scots follows at 3 p.m. There is no admission fee for Lawrence basketball. Adding a special element to Saturday's game are local Special Olympians, who will play a game during halftime of the men's contest.
The Lawrence SAAC will be handing out free pizza for students and T-shirts will be available for purchase. SAAC representatives will put on a 50/50 raffle, have a pledge wall and collect donations for You Can Play.
The Lawrence SAAC is a committee made up of student-athletes assembled to provide insight on the student-athlete experience. The SAAC also offers input on the rules, regulations and policies that affect student-athletes' lives on NCAA member institution campuses. SAAC also is involved in community outreach efforts, including events on the Lawrence campus and work in local schools.