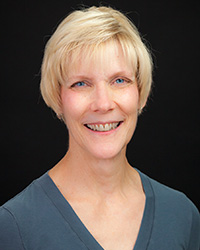 APPLETON, Wis. — Lawrence University Faculty Athletic Representative Kathy Privatt has been selected as a 2016 NCAA Division III FAR Fellow.
Privatt, the James G. and Ethel M. Barber Professor of Theatre and Drama and Associate Professor of Theatre Arts, will participate in a three-day professional development program at the NCAA national office in Indianapolis, Ind., from Oct. 14-16.
"I really appreciate the support from Midwest Conference Executive Director Heather Benning and Lawrence Director of Athletics Christyn Abaray in getting me accepted because I expect to learn a lot at this institute as well as make some valuable connections with other FARs," Privatt said.
The components of the program provide a thorough examination of best practices and issues surrounding the role and responsibility of the FAR, help FAR Fellows develop the leadership skills necessary to carry out their responsibilities on campus and in their conference, and strengthen the network of FARs needed to serve on conference, divisional and association-wide committees. The Institute will conclude with FAR Fellows committing to taking action on at least one idea.
The FAR Fellows Institute was launched in 2010 and aims to increase the effectiveness of Division III FARs at the campus, conference and national levels.
Highlights from 2015 included:
Campus
Establish a Faculty Mentoring Program.
Share data on student-athlete academic success with faculty.
Develop athletic advisory board.
Increase FAR involvement with campus SAAC.
Conference
Attend conference meetings with ADs, Presidents and SAAC.
Contact other FARs in the conference to make introductions and share ideas.
Report to conference peers what was learned at the FAR Institute
National
Attend the FARA Annual Meeting and Symposium.
Nominate students for NCAA post-graduate scholarships.
Read the Division III monthly update.