The Mudd Library recently processed some excellent pieces for the Lincoln Collection. Some of these items are currently on display in the case outside the Lincoln Reading Room.
Although received previously, these first three pamphlets were just this year added into the collection. All three are a gifts from one of the collection's benefactors, Robert S. French '48.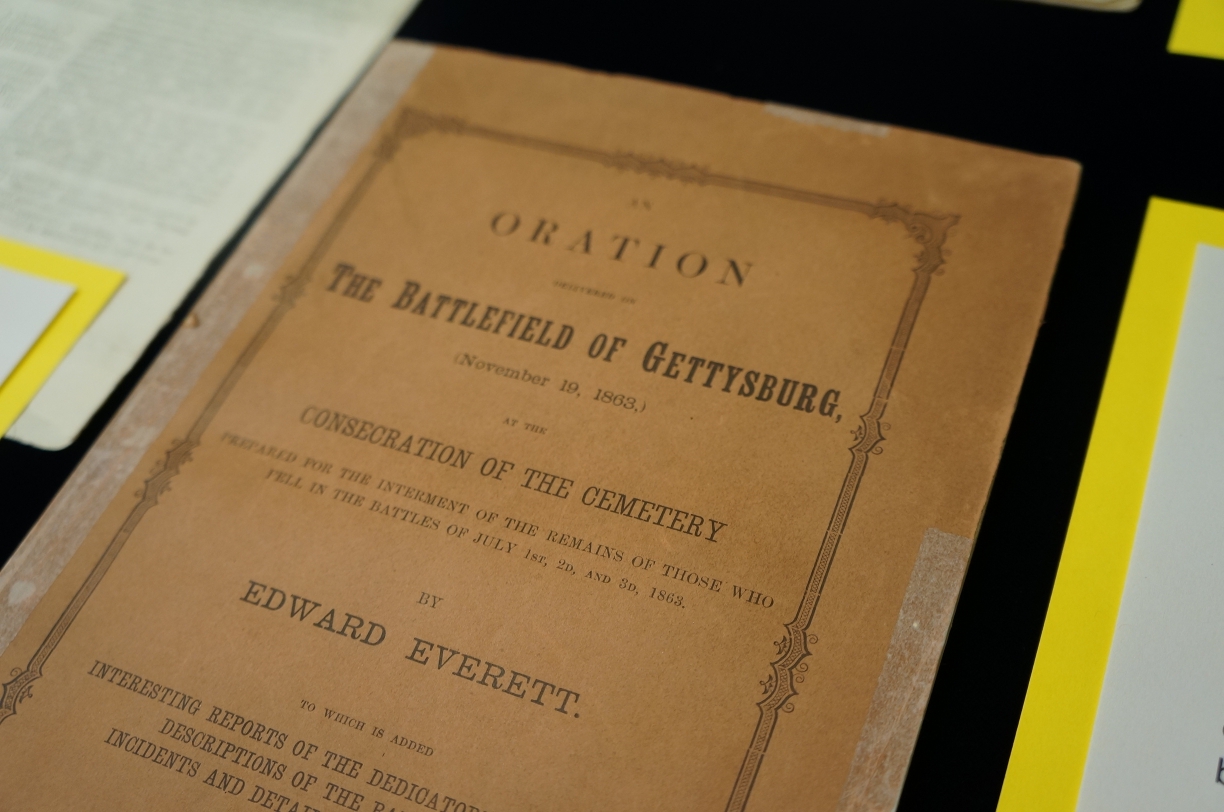 Everett, Edward, 1794-1865. An Oration Delivered on the Battlefield of Gettysburg, (November 19, 1863) at the Consecration of the Cemetery … New York : Baker & Godwin, 1863. (pictured at right)
While versions of the Gettysburg Address were immediately published in newspapers, this printing of Lincoln's address in Everett's book is virtually its first publication in book form. Scholars have discovered only one extremely rare 16-page pamphlet publication preceding Everett's book. The Library also holds another published version of Everett's speech and Lincoln's address, Address of Hon. Edward Everett at the Consecration of the National Cemetery at Gettysburg 19th November 1863, published by Little Brown of Boston, 1864.
Proceedings of the Republican State Convention : Held at Springfield Illinois, June 16, 1858. Springfield : Baihache & Baker, printers, [1858].
On June 16, 1858 more than 1,000 Republican delegates met in Springfield, Illinois for the Republican State Convention.  At 5:00 pm they chose Abraham Lincoln as their candidate for the U.S. Senate, running against Democrat Stephen A. Douglas.  At 8:00 pm Lincoln delivered his address to his fellow Republican colleagues in the Hall of Representative. In this speech Lincoln speaks the famous words, "A house divided against itself cannot stand." Lincoln warns that a nation cannot survive half-slave, half-free.
Lincoln, Abraham, 1809-1865. Speech of Abraham Lincoln, of Illinois Delivered at the Cooper Institute, Monday Feb. 27, 1860.  [New York]: New York Tribune, [1860].
Lincoln's Cooper Union speech (February 27, 1860) was one of his longest, at more than 7,000 words. However, it is not one of his speeches with passages that are often quoted. Yet, Lincoln's forceful argument was stunningly effective. Lincoln was able to show that the founding fathers had intended Congress to regulate slavery. He named the men who had signed the Constitution and who had later voted, while in Congress, to regulate slavery. The New York City newspapers carried the text of his speech the next day, with the New York Times running the speech on the front page. The favorable publicity was astounding, and Lincoln went on to speak in several other cities in the East before returning to Illinois. By summer Lincoln was the Republican candidate for President.
The following were acquired by the library for the collection.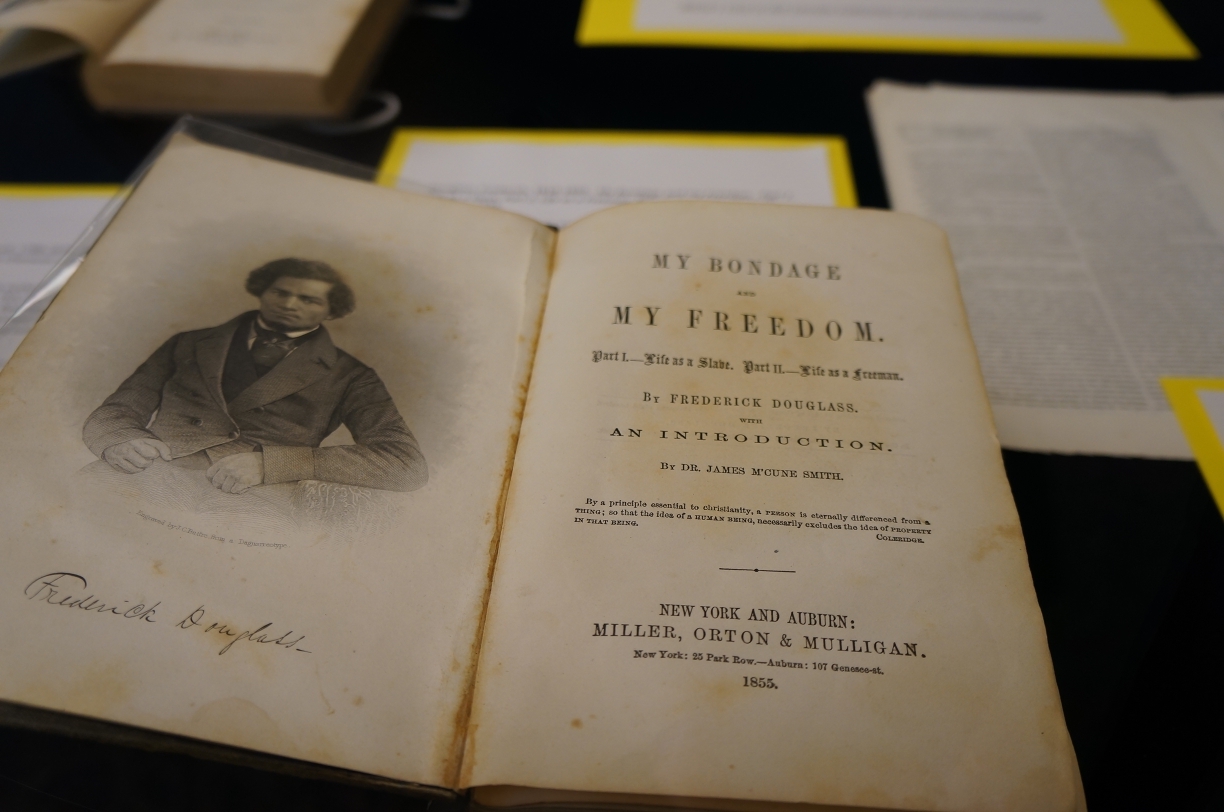 Douglass, Frederick, 1818-1895.  My Bondage and my Freedom : Part 1, Life as a Slave, Part 2, Life as a Freeman. New York : Miller, Orton & Mulligan, 1855. (pictured at right)
This purchased piece is an autobiographical slave narrative by Douglass. It is the second of three autobiographies written by him. This second title is mainly an expansion of his first, Narrative of the Life of Frederick Douglass. Although Lawrence does not have all three of these autobiographies, we also hold the third autobiography, Life and Times of Frederick Douglass written by himself, 1881.
Letter from Camp Randall, February 17, 1864. Manuscript from Rob to Charley Darrah.
This letter is from an unknown Union soldier stationed at Camp Randall during the winter of 1864. Camp Randall became the center of Wisconsin military activities, and more than 70,000 men were quartered and trained there. In July, 1863 Lincoln called for a draft, all men between the ages of 18 and 45 to be enrolled into local militia units and be available to be called into national service. By late 1863 men coming into Camp Randall were conscripts and draftees not volunteers. Draftees after mustering in, were under armed guard with orders to shoot anyone who tried to escape. Problems both within the camp and Madison began from a lack of discipline and too many men for the federal military agents to feed, clothe, and equip. In this letter, signed by Rob to Charley Darrah, he writes about guarding the conscripts and draftees, a fire at the Guard House, and attacks on citizens of Madison. The Invalid Corp, created within the Union Army, allowed partially disabled and formerly disabled soldiers to perform some form of light duty.
Hale, Sarah Josepha Buell, 1788-1879. Northwood; or, Life North and South : Showing the True Character of Both. 2nd ed.  New York : H. Long & Brothers, 1852.
This newly purchased piece is authored by Sarah Hale, editor of Godey's Lady's Book from 1837-1877.  This was her first novel and this 2nd edition was issued after Harriet Beecher Stowe's book, Uncle Tom's Cabin came out in 1852.  Hale opposed slavery but she did not support the abolitionists.  This edition has an added preface, "A Word with the Reader," in support of the Union. The Library also holds one year of Godey's Lady's Book, 1861.