Back when I was a prospie, my chief concerns were slightly less lofty than pristine academics, engaging professors, and a shiny degree. I was aware that these things were important pieces in the puzzle that is life, but as an 18 year old I was kinda focused on a different thing: fun. In high school I had a very close friend group with whom I enjoyed spending time with, but what could a 1,500 kid school (half the size of my high school) offer me for fun during my free time?
I arrived at Lawrence a classic freshman. I knew no one and thought that I would have a lot of trouble making the first great transition of my life.  It turned out, however, that every single other freshman around me was going through the same existential crisis.  It was over this that we bonded. I became extremely close with my floormates. We hung out, ate meals together, laughed a lot, and I began to miss my home less and less. We even ended up pledging the same fraternity.
Quick side bar here. Greek life at Lawrence is very atypical of most schools. Entering college I NEVER thought that I would join a fraternity, but I gave it a shot (mostly because my friends were doing it.) Then, unexpectedly, I kinda found something great. The guys here were far from the classic beer swilling frat boys that bad late night comedies had led me to believe. In fact, I found that we had a lot in common. We all liked to watch sports, quote Lord of the Rings, and enjoy each other's company. Many Greeks are heavily involved in the community and even lead discussions and awareness over important social topics such as sexual violence and racial issues. I had found my support community, and most importantly (to me), I was having fun at school.
This weekend we threw our biggest event of the year: Beach Bash. A long standing tradition, Beach Bash is one last celebration of the last gasps of warm weather before the long winter. The party is most known for its novelty. A couple of days before, we all gather to shovel 14 tons of sand in the basement.
Here's us just before getting to work.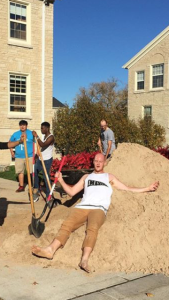 It's a ludicrous amount of work, but there's a certain comradery that spawns from all the craziness that I wouldn't trade for anything. As a senior, this year's Beach Bash gave me a certain amount of nostalgia for all the good times that it brought throughout my time at Lawrence.