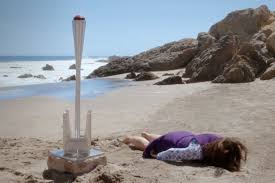 Please join us this Monday, Oct. 11th from 4:30 to 5:30pm to discuss episodes 6 and 7 of The Good Place, Season 1. We'll meet in the Strange Lounge of Main Hall, unless it's nice out, in which case we'll likely be at the picnic tables in front of the building. We encourage you, too, to attend the celebrations for Indigenous Peoples' Day that begin just afterward on the Library Plaza and Main Hall Green.
Focusing on episodes 6 and 7, we might wonder about some of the claims and assumptions that are made about promise-keeping (and -breaking) and lying. Is it the case that all promises should be kept? Is lying always wrong? Is it easy to live with telling lies, as Eleanor asserts, or is a self that lies somehow unsustainable, as Chidi suggests? Moreover, do friendships bring their own sets of expectations, that undermine some of these broader ethical obligations? In other words, is it reasonable to expect special treatment from our friends (treatment that isn't necessarily moral)? Think here about Eleanor's friendship with Michael and Chidi's friendship with Henry. Regarding episode 7 more specifically, we could inquire whether anyone has actually murdered Janet, in the sense of: is Janet the type of entity that can be murdered? (We could expand out and wonder if it's possible to wrong Janet at all—in any ways.) These are just possible starting points, and there are lots of directions to go in.
The Good Place series is available on Netflix. This season is also on reserve in the Mudd Library under "Philosophy Strange Thing", abbreviation "PHILStrange".
We look forward to the conversation!