When you think of a cappella groups, most people think of Pitch Perfect. They imagine Anna Kendrick performing on stage with the rest of the Barden Bellas, and winning the competition. However, that is not what all a cappella is like. Like Beca from Pitch Perfect, I too am in an a cappella group. But it is not just what is shown on the big screen.
My group, Identity Crisis, was created last year by several students interested in having another a cappella group on campus besides Appletones. Out of this came Identity Crisis. Unlike most larger groups, there are only 8 members in our ensemble. However, this doesn't inhibit us. In fact, it gives us the ability to be a more close-knit group, with the smaller number giving us more of a chance to give each person a voice. I have sung in ensembles ever since elementary school, and I've been in all women and mixed groups, as well as vocal jazz ensembles. All of these different groups have given me different experiences. Even now, I am in Cantala, Lawrence University's all women choir. It's an incredible opportunity to be able to sing with such amazing and talented women. However, Identity Crisis' small size gives room for even more opportunities, not just as a group, but as a soloist as well. I don't have eight other women singing my part that could help me if I mess up. With such a small ensemble, every person counts, and this challenges us even more.
One of the most interesting things that I love about this group, though, are our arrangements that we sing. All of the songs that we have sung have been arranged by one of our members. This gives us an even greater connection to the music, and gives our members chances to show off more than just our singing. Even our rehearsals aren't just another practice session; it's a chance to catch up with our friends, to laugh about old jokes, challenge ourselves, and just do what we love.
This year, we've decided to really challenge ourselves. We are competing in the 2019 ICCA Great Lakes a cappella competition that is happening this Saturday at the Athenaeum Theatre in Chicago at 7 pm. ICCA stands for International Championship of Collegiate A Cappella. We're competing against nine other a cappella groups (which I guess is like Pitch Perfect). But we're not doing it to win, or to just show the other groups who's the best. With 8 singers, we're actually the smallest group competing this weekend. We'll most likely be less organized and have the least support from our school as well. But in all honesty, we're not competing to prove ourselves to Lawrence University or anyone else. We're competing to challenge ourselves. We're going to go there on Saturday and sing our hearts out. And hopefully when we come out the other side, we'll have gained something from this experience. So if you live in Chicago and have Saturday, January 26th free, then think about swinging by. We're small but we're mighty, and we might just surprise you.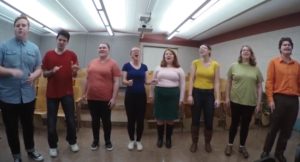 Pictured: Identity Crisis auditioning for ICCA