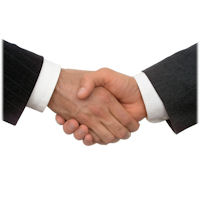 When negotiating salary or other benefit, you are also negotiating the foundation of a relationship, so you want to get off on the right foot. You and the employer must come to an agreement that you both feel is fair. Here are some tips and rules to keep in mind when talking about salaries and benefits.
The following are the best steps to take when negotiation begins:
1. Do not negotiate until you have an offer in writing. Let the employer go first with the offer. However, if they ask you first, tell them your salary range (that you determined with the Considerations in this handout).
2. Restate their offer, and then process it. Keep an honest yet non-emotional response (including body language) based on your research. So, if it is less than you expect, indicate that it is lower than you expected per your research. Be prepared to verify the sources of your research.
3. Counteroffer with your research-based response and desired range. Remain objective, optimistic, and polite.
4. Never accept an offer right then and there. Ask when they need to know your decision. A respectable company does not ask you to respond immediately.
If you have multiple job offers, you can sharpen your negotiation skills. Practice with a company you are indifferent about working for. If you are feeling confident, try for the company with the best offer. Remember, if they are negotiating, then you are the leading candidate. Use this power to your advantage.
Sources: Sweet Careers Consulting, MJW Careers
Image Source Continue reading Salary Negotiations: The Initial Offer and Your Response