The Lawrence University Department of Athletics is proud to announce an exciting plan, just approved by the Board of Trustees, to take Vikings athletics to the next level.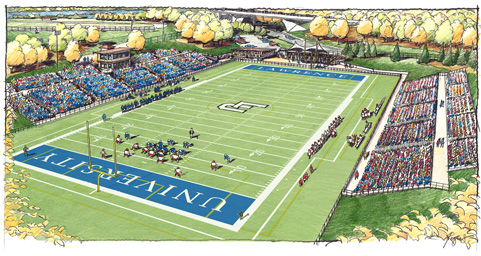 The first phase of the plan is a campaign to raise $5 million to renovate the Banta Bowl. Lawrence University Trustee David Blowers '82, a standout football players and captain of the Vikings during his senior year, will chair the effort.
The Banta Bowl has served Lawrence University student-athletes for nearly 50 years, and the time has come for this legendary venue to receive a dramatic makeover. Currently the home of the Lawrence football team, when renovations are complete, football and men's and women's soccer will share the stadium.
The renovations begin with raising the level of the playing field to make it wide enough for a regulation NCAA-sized soccer field. The playing surface will be replaced with a synthetic surface, which will diversify and increase the amount of usage for the stadium. Banta Bowl fans will benefit from new seating as the original fiberglass bleachers will be replaced.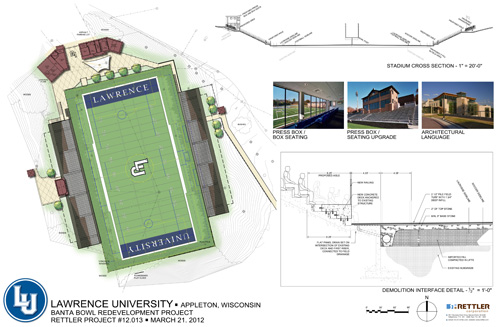 Fans entering the Banta Bowl will do so through an inviting plaza on the north end of the stadium. The current buildings on that end of the stadium will be razed and replaced with new structures. The centerpiece of the new construction will be locker room space for the Vikings. In addition, a new visitors' locker room will be built, along with spaces for officials, concessions, ticket sales and storage. The parking lot will also be refurbished. New lighting and a new LED scoreboard will also be added.
The last major piece to the Banta Bowl renovation is expansion of the press box to give the coaching staff of both teams an indoor space from which to watch the game from the stadium rim. With all Lawrence football games (and soccer games once that sport moves into the Banta Bowl) being webcast, the new press box would allow for more effective game broadcasts.
When phase I is complete, Lawrence will turn its attention to other Vikings needs, including, perhaps, renovations to Alexander Gym – and even an ice rink.
"With its support of this fund-raising project, the Lawrence Board of Trustees is ensuring that the future of Vikings athletics – football, soccer and all varsity programs, has never been brighter," said Mike Szkodzinski, director of athletics and head hockey coach. "This project will help us attract the best scholar-athletes and also further connect Lawrence to the Appleton community."