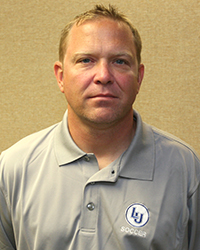 APPLETON, Wis. — Will Greer has been chosen to lead the Lawrence University men's soccer program, Director of Athletics Christyn Abaray announced today.
Greer, who served as the interim head coach for the Vikings in 2016, brings a wealth of coaching experience at multiple levels and a diverse network of soccer connections.
"I am excited to have Will officially join Lawrence University Athletics," Abaray said. "Will stepped in and up to coach our men's team in the midst of this past season, connected with various offices and individuals across campus to better understand Lawrence and how we operate. He has hit the recruiting trail hard and is working to establish a new sense of the men's soccer program."
Greer was serving as the youth coaching director at Rush Wisconsin Soccer Club in Middleton, Wis., and as a head coach in the Olympic Development Program at the Wisconsin Youth Soccer Association.
"It's just really exciting to be back here in Appleton, to be part of the program, part of the school, part of the community," Greer said. "This is just a great place."
Greer was named interim head coach in September but was a familiar face to the upperclassmen on the team. Greer served as an assistant coach with the Vikings for six seasons from 2007-12. The Vikings made three Midwest Conference Tournament appearances during that stretch.
"I felt and feel confident in Will, knowing how he intends to make the appropriate changes to our culture, moving us in the direction of sustained success both on and off of the field," Abaray said. "With his soccer knowledge, experience and widespread connections, his demonstrated abilities to jump into an unlikely situation and make positive change and progress, his enthusiasm about the future of the program, and his dedication, familiarity and affinity for the program, we are encouraged about what is in store for Lawrence men's soccer."
Greer, a 2003 Marian University graduate, led Lawrence to a 5-7-1 record in games he coached in 2016, and the Vikings finished with a 6-10-1 overall mark.
"Changing the way we played on the field was priority No. 1, and changing the culture off the field is important as well," Greer said. "The guys have a lot of passion, a lot of heart, and that's pretty contagious when you're around them. Being around our guys re-energized me in terms of looking for a college coaching job. Coaching at a higher level like this has been exciting. It has really lit a spark inside me."
The Vikings have 11 seniors on the 2016 team so Greer began recruiting immediately back in September. He believes the hard work will pay off with an influx of talent for 2017.
"We want to get the roster to 28 to 30 players and we're on track to do that," Greer said. "When prospective student-athletes come up to see the school and meet the guys, they're very impressed."