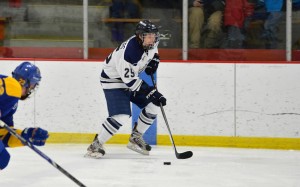 APPLETON, Wis. — Lawrence University's Huck Saunders has been named the Northern Collegiate Hockey Association Offensive Player of the Week.
Saunders (Seattle, Wash./Northwood), a senior forward, scored three goals in Lawrence's weekend split with the 15th-ranked College of St. Scholastica.
In last Saturday's 3-2 victory, Saunders scored a pair of goals, including the game-winner. The victory gave Lawrence its second victory over a ranked opponent this season, and that is a first for the program. Saunders also scored Lawrence's lone goal in a 4-1 loss to the Saints on Friday.
With his three-goal weekend, Saunders took over the team lead with nine goals this season. Saunders also has six assists and ranks second on the team with 15 points.
This is the second time in his career that Saunders has been honored by the conference. He was named Freshman of the Week during the 2010-11 season.
Lawrence continues NCHA play this weekend when it has a home-and-home series with Lake Forest College.