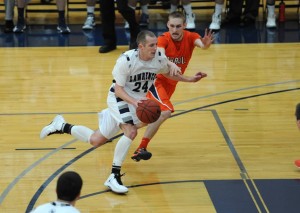 APPLETON, Wis. — Lawrence University men's basketball standout Chris Siebert has been named to the D3hoops.com All-Midwest Region team.
Siebert (Baraboo,Wis./Baraboo), a senior guard, was chosen for the third team. Siebert, who was selected for the all-region team for the first time, averaged 17.9 points, 4.0 rebounds and 2.9 assists per game for the Vikings.
Siebert shot 46.8 percent from the floor, including 46.2 percent from 3-point range. Siebert made 72 3-pointers on the season, which ranks second in school history to the 75 John Dekker made in 2009-10. Siebert also shot 81.7 percent from the foul line.
Siebert finished a stellar career fourth in scoring at Lawrence with 1,360 points. He trails only All-American Chris Braier, Lawrence Hall of Famer Joel Dillingham and All-American Ryan Kroeger.
Siebert, who is the 10th player in Lawrence history to be named to the All-Midwest Conference team three times, is the Vikings' first all-region selection since Kroeger in 2008-09. Both Kroeger and Braier earned multiple all-region honors in the last decade.
Siebert was one of four players from the Midwest Conference to earn all-region honors. St. Norbert College's Brandon Gries and Kam Cerroni were named to the first and second teams, respectively, and Grinnell College's Jack Taylor was chosen for the third team. Ripon College's Ty Sabin was named the region's Rookie of the Year.