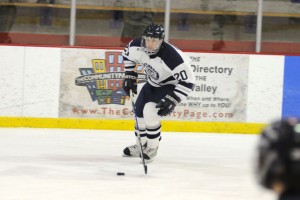 APPLETON, Wis. — Former Lawrence University hockey star Jonathon Sheridan is joining the Vikings' coaching staff.
Sheridan, a 2011 Lawrence graduate, is the team's new assistant coach. Sheridan replaces Kalle Larsson, who left the team after four seasons to work for the Sioux City Musketeers of the United States Hockey League. Larsson will serve as the team's assistant general manager and director of scouting.
"I am more than honored and extremely humbled to be able to come back to Lawrence as a coach," Sheridan said. "I think that it is every coach's dream to be able to coach where they played. Not many get to do it, but to be able to do so is a dream come true for me."
Lawrence Director of Athletics Mike Szkodzinski, who also is the Vikings' head coach, was Sheridan's collegiate coach.
"We are very excited to welcome Jon back to Lawrence," Szkodzinski said. "Although Coach Larsson will be extremely difficult to replace, we think that Jon will pick right up where Coach Larsson left off. Jon's tremendous character and experiences at Ohio University lead us to believe he is the perfect fit for our program.
"I want to thank Coach Larsson for his dedication and commitment to Lawrence hockey. He is a huge piece of the foundation of our program and a great friend. He will be excellent in his new role with Sioux City."
Sheridan returns to Lawrence after two seasons coaching the American Collegiate Hockey Association team at Ohio University. Sheridan was the head coach in 2013-14 after serving as the assistant coach in 2012-13.
Sheridan was named the Central States Collegiate Hockey League Coach of the Year after his team finished second in the regular season this past season. The Bobcats put together a 30-8-3 record and played in the ACHA national tournament. Ohio went all the way to the semifinals of the national tournament and won the CSCHL Tournament in 2012-13.
"I am so excited to get back and help these young men, who are just starting their adult lives, and teach them what it means to live by the Lawrence way," Sheridan said. "It was by far the best gift I have been given thus far in my life. Playing for Lawrence pushes you to find, then give your absolute best, in every aspect of life. To have the opportunity to pass that along to someone, I think that what life and hockey is all about."
A native of Midland, Mich., Sheridan played three seasons as a defenseman at Lawrence. Lawrence won 40 games in those three seasons and took the 2008-09 Midwest Collegiate Hockey Association Northern Division title. Sheridan, who had six goals and 16 assists for 22 points during his time at Lawrence, served as team captain and was named to the MCHA All-Tournament team in 2011.
"Jon brings experience on and off the ice," Szkodzinski said. "During his time here as a scholar-athlete, Jon demonstrated a maturity level beyond his years. He relates to people very well and is eager to grow as a coach. We can't wait to get him back to Appleton."
An Academic All-MCHA selection while at Lawrence, Sheridan earned a bachelor's degree in biology. He received his master's degree in coaching education from Ohio University in 2013.