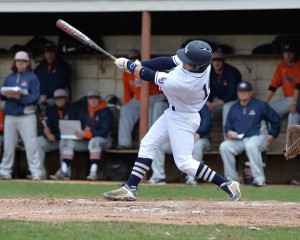 APPLETON, Wis. — Lawrence University standout Jake Gordon has been named to the D3baseball.com All-Central Region team.
Gordon (Wilmette, Ill./North Shore Country Day), a junior center fielder, was chosen for the second team.
Gordon led the team with a .400 batting average to go along with nine doubles, one triple, one homer, a team-high 30 runs scored and 14 runs batted in. Gordon is the first Lawrence player to hit .400 since all-conference first baseman Tommy Schmidt hit .439 back in 2006.
Gordon piled up a school-record 54 hits in 33 games this season and had 16 multi-hit games. Gordon broke the record of all-conference third baseman/shortstop Andrew Wong, who set the record of 52 hits in 34 games back in 2005. Gordon also tied the school record of five hits in a game in Lawrence's 24-11 win at Carroll University on April 16.
Gordon, who compiled a .439 on-base percentage and .989 fielding percentage, also swiped a team-best 10 bases.
Gordon is Lawrence's first all-region selection since outfielder Robert Rashid was selected for the American Baseball Coaches Association All-Central Region team in 2010.