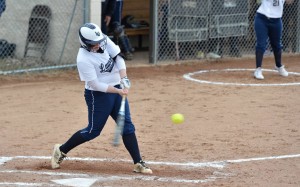 APPLETON, Wis. — Lawrence University shortstop Amanda Jaskolski has received first-team National Fastpitch Coaches Association All-Great Lakes Region honors.
Jaskolski (Shawano, Wis./Shawano), a junior, is in his her first season at Lawrence and led the team with a .409 batting average. Jaskolski batted in the clean-up spot for Lawrence and had eight doubles, one triple, six home runs and 30 runs batted in.
The season ranks among the best in Lawrence's rich softball history. The six homers is the fourth-highest season total in school history, and the 30 RBIs rank fifth. Her .727 slugging percentage is the ninth-best season mark in school history.
Jaskolski is the first Lawrence player to be named to the all-region first team since shortstop Jenny Burris was chosen in 2005. Jaskolski also was named the Midwest Conference North Division Player of the Year.
Led by Jaskolski, Lawrence finished with an 18-13 record and earned a berth in the Midwest Conference Tournament for the second consecutive season.