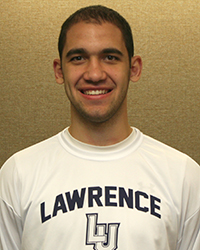 APPLETON, Wis. — Lawrence University men's basketball star Jamie Nikitas had a pair of big games and was named the Midwest Conference Player of the Week.
Nikitas (Glenview, Ill./Glenbrook South), a senior guard, averaged 36.5 points and 8.5 rebounds per game as Lawrence lost a pair of close conference games on the road. Nikitas shot 55 percent from the floor and 83.3 percent from the foul line and also averaged 3.0 assists and 2.5 steals per game.
In an 84-83 overtime loss at MWC unbeaten Carroll University on Jan. 12, Nikitas poured in a career-high 40 points as he hit 12-of-22 shots from the floor and went 14-of-16 from the foul line. He also grabbed eight rebounds, handed out two assists and picked up two steals.
It was the ninth 40-point game in Lawrence history and the first time a Vikings player scored at least 40 against a team other than Grinnell College since Pete Hachmeister did it against Silver Lake College in 1975.
Nikitas followed that with 33 points and nine rebounds in a 73-69 loss at Cornell College on Jan. 16. Nikitas, who added four assists and three steals against the Rams, hit 10-of-18 shots from the floor and went 11-for-14 from the line.
This is the second time this season and third time in his career that Nikitas has been named the MWC Player of the Week.
On the season, Nikitas ranks fourth in all of NCAA Division III in scoring at 27.7 points per game. He now ranks 10th in career scoring at Lawrence with 1,217 points. Nikitas is just 27 points away from passing his head coach, Lawrence Hall of Famer Joel DePagter, for ninth place. He is just 32 points away from moving all the way up to seventh place on the list.
The Vikings return to action on Wednesday when they host Ripon College.