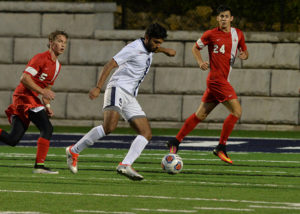 APPLETON, Wis. — Lawrence University men's soccer player Jawad Alweleidat got his first career goal Saturday against Maranatha Baptist University and then kept on going.
Alweleidat added two more goals for his first career hat trick as the Vikings romped to an 8-0 nonconference win over Maranatha on Ron Roberts Field at the Banta Bowl.
Yuta Hayashi and Sam Parkhurst also scored their first career goals for the Vikings (5-7-0). Goalkeeper Robert Meiser made two saves to record his first career shutout at Lawrence.
Alweleidat got the scoring started with an unassisted goal at the 22:52 mark. Keanan Wilson picked up the first of three assists as he provided the pass when Jack Blodgett scored at 35:34 for a 2-0 Lawrence lead. Parkhurst then scored off assists from Blodgett and Max Loebl with just 55 seconds left in the first half to give Lawrence a 3-0 lead at the break.
Loebl's header for a goal at 69:21 off Robert Desotelle's pass put Lawrence up 4-0, and Desotelle then scored at 74:06 for a 5-0 lead.
The Vikings then scored three times in a span of 1:28 to complete the scoring. Alweleidat scored off a pass from Wilson at 81:20, and Hayashi picked up his first goal just 25 seconds later with Loebl picking up his second assist of the match. Alweleidat then got the hat trick at 82:48 when he scored off a cross from Taylor Reifert.
Lawrence had a 33-3 edge in shots.