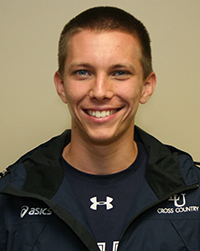 BELOIT, Wis. — Lawrence University cross country standout Josh Janusiak put on a dominating performance Saturday on his way to winning the individual title at the Midwest Conference Championships.
Janusiak, a sophomore from South Milwaukee, Wis., covered the 8,000-meter course at the Beloit Club in 25:42 to win by a whopping 27 seconds over second-place finisher John Lennon of Grinnell College. Janusiak's time was the eighth-fastest in Lawrence history, one tick faster than Peter Levi.
Janusiak is Lawrence's first individual champion in cross country since Sam Stevens won the title in 2011 and is the ninth runner in Lawrence history to win the crown.
Led by Janusiak and rookie Joe Kortenhof, the Vikings finished fourth in the team standings with 95 points. Kortenhof placed sixth in 26:36 to earn MWC Freshman of the Year honors and a place on the all-conference team, which is made up of the top-20 finishers. Grinnell won the team title with 33 points.
Sophomore Ben Schaefer took 21st for the Vikings in 27:17, senior Max Edwards was 33rd in 28:05 and Ethan Gniot was 34th in 28:05 to round out the scoring for Lawrence.
On the women's side, the Vikings finished seventh with 179 points. St. Norbert took the team title with 43 points.
The top finisher for the Vikings was Christina Sedall, who was 25th and covered the 6,000 meters in 24:38. Erin Schrobilgen placed 30th in 24:59, Hannah Kinzer was 34th in 25:08, Amy Hutchings was 43rd in 26:03 and Margaret Huck took 47th in 26:30 to complete the scoring.