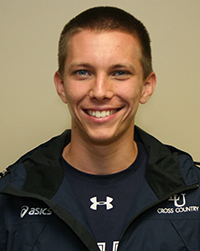 APPLETON, Wis. — Lawrence University cross country star Josh Janusiak took the individual title Saturday at the Gene Davis Invitational at Reid Golf Course.
The sophomore from South Milwaukee, Wis., covered the 8000-meter course in 25:48 to take first, and Austin Wright of MSOE was second in 25:57.
Led by Janusiak, the Vikings placed fourth in the team standings with 100 points. The Wisconsin Track Club was first with 37.
Freshman Joe Kortenhof took seventh for the Vikings in 26:24. The final three scorers were closely bunched as Ben Schaefer was 27th in 27:13, Max Edwards was 30th in 27:23 and Mik Patel was 35th in 27:51.
On the women's side, Lawrence placed all five of its scorers in the top 15 and took second with 57 points. St. Norbert posted a perfect score of 15 to win the team title.
Erin Schrobilgen led the way for the Vikings by taking eighth and covering the 6,000 meters in 24:09. Hannah Kinzer grabbed 10th in 24:25, and rookie Christina Sedall was 12th in 24:36. Rounding out the scoring for Lawrence were Margaret Huck, who was 13th in 24:38, and Amy Hutchings, who was 14th in 25:06.
St. Norbert's Erin Artz was the winner with a time of 21:49.