If you've visited Lawrence University over the past few months, you may have spotted me behind a sliding glass window right off the main lobby of the Admissions Office in Hurvis Center, staring intently at my dual monitor.  But last Thursday evening I found myself in the mustard-colored Greenfire house laughing with old friends, their faces glowing in the warmth of funky lights.  And what made the night truly lovely was the special guest I encountered when I got there.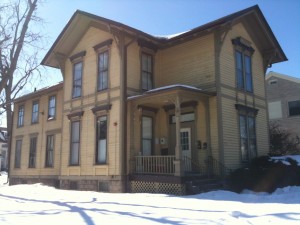 As a student I was very involved with Greenfire, one of the main environmental clubs at Lawrence.  The house, where a handful of club members live and cook and are merry (and where I lived all of my senior year), happens to sit right across the street from Hurvis Center, which means I have no excuse not to frequently visit my friends who still live there and consume their fresh food creations (and, okay, wash some dishes while I'm there).
When I stopped by Thursday for a group meal, held in the house four times a week, I walked into the living room and saw Professor of Economics, David Gerard, sitting on the couch with his plate in his lap, in deep discussion with two students.  (Professor Gerard taught me Environmental Economics during a particularly beautiful spring term at LU.  The morning we had class outside, I remember feeling almost overcome by the scent of blooming lilacs while we analyzed the value of putting a price on carbon pollution.)
On Thursday the Greenfire club was kickstarting a series of lectures held in the comfy old house.  When I saw Professor Gerard digging into broccoli mac and cheese, he was gearing up for his talk on the economic viability of carbon sequestration.  What always amazes me is just how deeply interested Lawrence professors are in their areas of expertise, and how willing they are to share that expertise with their students.  Professor Gerard enjoys discussing the economics of natural resource extraction so much that he gave up his entire evening to do just that with a bunch of millennials.
During dinner, the atmosphere was no different from the nights when the house is not hosting a VIP.   We reminisced, filled our plates with seconds, talked about our weekend plans, traded ideas for why the candied walnuts in the salad tasted so perfect.  And that's something that makes my alma mater so special.  It's not difficult to come across homemade dinners (besides Greenfire, there's the Sustainable LU Garden co-op and the McCarthy Co-op), friends, mindfulness–even professors–all in one place.
~Caitlin Buhr (Lawrence 2013), Data Operations Assistant