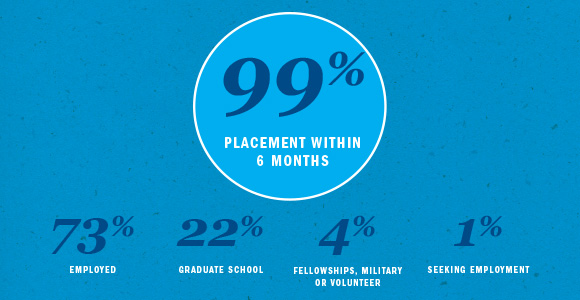 With 99% placement within six months of graduating, Lawrentians have been reporting good news for the past several years.
The better news is that Lawrentians do well in their careers long after that, by many measures:
But they didn't just get there by themselves. Support, encouragement, and guidance by their professors is a major trajectory-changer.
(And there's research to support it.)
In surveys of thousands of college graduates, Gallup finds that those who report "being emotionally supported during college are two times more likely to be engaged in their work and thriving in their well-being later in life." This support comes from having a professor or a mentor who:
makes students excited about learning;
cares about me as a person;
who encourages my goals and dreams.
With one of the lowest student-to-faculty ratios in the country (8.5 to 1), average class sizes of 15, and hundreds of one-on-one courses available to you, Lawrence provides an environment where you will engage with your professors at a level few colleges in the world can offer.
From your first day of Freshman Studies through the completion of your Senior Experience—and long after you graduate—your Lawrence professors are deeply invested in your success, whatever form that might take for you as an individual.
Because of highly engaged professors, Lawrentians are "being well and doing well" in their lives. (It's one of the reasons Lawrentians invite their professors to attend their alumni reunions every year as special guests.)