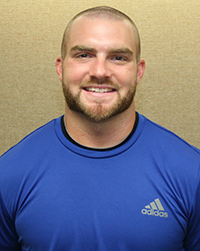 APPLETON, Wis. — Tyler Ayers has been named the Athletic Performance Coach at Lawrence University, Director of Athletics Christyn Abaray announced today.
Ayers was hired after a national search to fill this position, which is new to the Department of Athletics.
"We are excited to have Tyler join our LU family as our first full-time Athletic Performance Coach," Abaray said. "He comes from a knowledge-rich environment for the athletic performance industry so his credentials and experiences are impressive. Beyond this and even more striking was his ability to effectively communicate with all of the different people he encountered, including student-athletes. With him at the helm, I am confident that we will build upon where we are and make even more significant strides."
Ayers was the assistant strength and conditioning coach at Webber International University in Babson Park, Fla. Ayers, a native of Daytona Beach, Fla., had served in that role since July 2015.
"I would like to thank the Lawrence University administration, search committee and Christyn for this opportunity," Ayers said. "I believe my job is two-fold. Number one, it's about impacting the lives of the student-athletes in a positive manner by taking what we learn in the weight room — hard work, determination, toughness, etc. — and applying it to daily life. This all translates into their life after athletics, molding them into great future employees, husbands and wives and mothers and fathers. Number two, it's about increasing their athletic performance on and off the field while trying to keep them as healthy as possible. If I can do those two things, I will consider my time here successful at Lawrence University."
Ayers served as the interim head strength and conditioning coach at Stetson University in 2015 before going back to Webber International. He had worked at Webber International as coaching assistant for strength and conditioning for a number of sports.
A 2014 graduate of Anderson (Ind.) University with a bachelor's degree in exercise science, Ayers also holds certifications from the National Strength and Conditioning Association, USA Weightlifting and the American Red Cross. Ayers played football at Anderson and served as the team captain as a senior in 2013.
Lawrence opens the fall sports season on Sept. 1 when the men's soccer team travels to Concordia University of Wisconsin. The Vikings' first home contest is Sept. 7 when men's soccer hosts MSOE in the Banta Bowl.