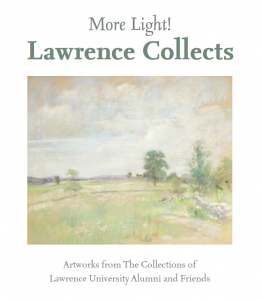 David Hockney. Rembrandt van Rijn. James McNeill Whistler. These are just a few of the renowned artists with whom Lawrence students have the opportunity to become acquainted through courses in art history. Now, thanks to alumni and friends of Lawrence, students can view and reflect upon works by these and other great artists firsthand in the Wriston Art Center galleries as part of the exhibition More Light! Lawrence Collects.
More Light! Lawrence Collects celebrates the conclusion of Lawrence University's More Light! campaign. The exhibition offers a sample of the art collected (and in a few cases created) by members of the Lawrence community. Their generosity allowed the valuable works from their private collections to travel from near and far to be shared with students, faculty, staff and community members. A special thank you to George Chandler '51, who permanently gifted a work of art to the college as part of More Light! Lawrence Collects, allowing future generations of Lawrentians to study and enjoy it.
"Light! More Light!" is a fitting motto for a college whose mission is to enlighten its students through a liberal arts education. Exhibitions such as More Light! Lawrence Collects bring the light of additional ideas, techniques and ways of perceiving the world to our campus.
View photos of some of the exhibition works.
This exhibition is currently open to the public and will continue through November 23, 2011.