Editor's note: I'll acknowledge right here that FAFSA isn't a verb, but neither are most of the other nouns that people will shoehorn into the "Keep Calm and [Something] On" meme to suit their purposes, much as I am here. (Thank you in advance for extending me some creative grammatical license.)
As if high school seniors don't already have enough on their plates this fall, with…
the start of the school year and all the academic, co-curricular, and extra-curricular activities that come with it (I'm looking at you, Homecoming);
the college admission process kicking into higher gear;
preparing for the revival of Gilmore Girls, the arrival of Luke Cage, or any of the other gifts Netflix will give us.
…we now have this: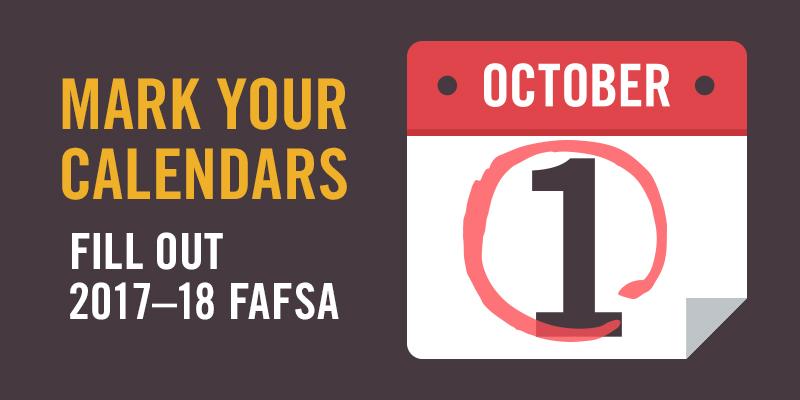 Yes for the first time ever, you can file your FAFSA for the 2017-2018 college academic year starting on October 1 using your family's tax returns from 2015.
Here's the part where I refer again to the title of this blog, but this time with an addendum:
Keep calm and FAFSA on… when you are ready.
Here's the thing… while the FAFSA goes live on October 1, that doesn't mean you must drop everything and file for financial aid on October 1— though you might hear some chatter from well-meaning and/or freaked out classmates, parents, neighbors, or random strangers who are jumping on their financial aid applications immediately.
This is not the same as concert tickets going on sale tomorrow. You won't find yourself out of a seat if you file your FAFSA on October 15. Or November 15. Or January 15.
More to the point, two things generally have to happen in sequence before you will even receive a financial aid offer from a college:
You have to apply to that college.
You have to be admitted to that college.
And considering that colleges have many different application and financial aid deadlines, we encourage you to check the websites of each of the colleges you're considering (like Lawrence, for example) to learn when all of their deadlines fall.
Then you can start prioritizing the steps you'll need to take to move through your own college admission process. To help with that, here are a few College Applicant Power Tips (capitalizing them makes them seem more important, somehow)…
Tip #1: Build your own college admission calendar and plug in all the important deadlines for each of your colleges.

Tip #2: On that calendar, plug in your own dates where you will get things done (e.g., draft application essay, review application essay, file FAFSA, jump for joy with admission from Lawrence, etc.)

Tip #3: Do those things you scheduled using Tip #2.
As for the FAFSA, if you haven't yet explored the FAFSA and you happen to find cartoons with semi-funky music to be a nice, inviting way to explore unfamiliar topics, this video, compiled by our friends at the National Association for College Admission Counseling, might be a helpful start.
When you're done watching that, you can move on to this video designed by the U.S. Department of Education (complete with soothing voice-over and calming background piano music). It provides more detail about how the FAFSA works.
When you're ready to level up, visit the Department of Education's FAFSA website where you can dive into way more detail about the FAFSA and, finally, file it.
You can do this.
If you run into questions, feel free to get in touch with us at Lawrence. We're happy to help.