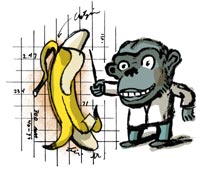 This question came up in class the other day — are you peeling your bananas wrong?   As usual, the Armchair Economist Steven Landsburg has something to say about the matter:
My friend Petal peels her bananas from the bottom. Well, it's the top, actually, since bananas grow upside down. Come to think of it, that's not quite right either—bananas grow the way they grow, which should be right-side up by definition, even if we think of them as upside down. So let me start over. Petal peels her bananas from the end without the stem.
Petal's method is counterintuitive and thus instantly appealing to economists, who love nothing more than to overturn conventional wisdom. Multiple experiments (well, two experiments, actually, since we only had two bananas) quickly convinced a majority of the department that Petal's way is—surprisingly—easier than the traditional method, though the econometricians thought you'd need to test at least 30 bananas to report that result with confidence. The labor economists immediately resolved to apply for a grant.
Still not convinced?  Well, you aren't alone.  But the peel-from-the-bottom case is a compelling one:

In the anti-Petal camp, we have the theorists who argue that peeling from the stem end must be optimal because that's what people do. But Petal counters—and indeed this is her clincher argument—that monkeys do it her way (though I think it would be more accurate to say that she does it the monkeys' way) and monkeys are the real experts.
If such knotty problems interest you, you should consider taking Econ 300 with me this fall.   In fact, you should consider it anyway.